PUMP UP YOUR BOOK
VIRTUAL BOOK TOURS
IS PLEASED TO BRING YOU
ON BLACKBERRY LANE
Life in Icicle Falls
Book Ten
March 6 - March 31, 2017



(If you would like to comment
go to "NO COMMENTS"
at end of post)
Thanks!


Inside the Book
Title: STARTING OVER ON BLACKBERRY LANE
Author: Sheila Roberts
Publisher: Harlequin Mira
Pages: 384
Genre: Women's Fiction/Romance
Stefanie Stahl has a husband with renovation ADD. He can't seem to finish
anything
he starts and her house is littered with his "projects." If he doesn't smarten up, she swears she's going to murder him and bury him under the pile of scrounged lumber in the backyard.
Her friend Griffin James is suddenly single and thinking maybe she needs to sell her fixer-upper and follow her career bliss up the ladder of success, even if that scary ladder is clear across the country. Getting her place ready to sell proves harder than she originally thought. She needs help.
She's not the only one. Cass Wilkes, their neighbor, has an empty nest—with a leaking roof. When her ceiling crashes in, she knows it's time to do something. When Grant Masters offers his handyman services at a fund-raiser auction, the three women go in together to outbid the competition and win their man. (Cass's friends think she should win Grant in a different way, too!) Now it's time to make some improvements…in their houses
and
their lives.
FOR MORE INFORMATION:
Meet the Author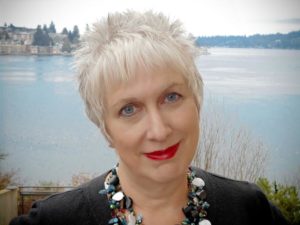 Bestselling author Sheila Roberts has seen her books translated into over a dozen languages. Her novels ON STRIKE FOR CHRISTMAS and THE NINE LIVES OF CHRISTMAS were made into movies for the Lifetime and Hallmark channels. When she's not hanging out with her girlfriends or dancing with her husband she can be found writing about those things near and dear to women's hearts: family, friends, and chocolate.
WEBSITE & SOCIAL LINKS:
MY THOUGHTS
Three friends find the had more in common than just a handyman. They had a bond. They were the best of the best of friends. They listened and consoled, they shared everything and they thought of each other. They never dreamed that having the same handyman would change their lives, all of their lives. This isn't your typical romance between young couples. This romance is between a seasoned couple. They both have had their previous lives of spouses and children, homes and all that goes with it. The author makes it fun to get to visit with the characters of Icicle Falls. Some are from the other books in the series. The characters you can't help but like and they are fun and interesting. The author does introduce a couple of new characters that you as the reader, can relate to. They are like people you know. Of course, you can read this as a stand alone but it is fun to read the books in the series. This would make a great summer read lounging out in the sun or on a cold winter night beside the fireplace. Once again Sheila Roberts didn't disappoint. Grab a copy and visit the citizens of Icicle Falls. You'll fall in love with all of them.
I received this book from PUYB and the author and voluntarily decided to review it.
I would give this book 5 STARS.
********
Tour Schedule
Monday, March 6

Tuesday, March 7
Wednesday, March 8
Thursday, March 9
Friday, March 10
********
Monday, March 13
Tuesday, March 14
Wednesday, March 15
*******
Monday, March 20
Wednesday, March 22
Thursday, March 23
********
Monday, March 27
Tuesday, March 28
Friday, March 31
*******
Dorothy Thompson
Owner, Pump Up Your Book
Winner P&E Readers Poll 2016
LINK