PUMP UP YOUR BOOK
VIRTUAL BOOK TOURS
PROUDLY PRESENTS
*****************************************
THE MOUNTAIN GODDESS
Book Two of Two
(if you would like to comment
go to "NO COMMENTS" at end of post)



Inside the Book
Title: THE MOUNTAIN GODDESS
Author: Shelley Schanfield
Publisher: Lake House Books
Pages: 471
Genre: Historical Fantasy
In ancient India, rebellious Dhara runs away to a sacred mountain to study with the powerful yogi Mala, a mysterious woman with a violent past. Flung by war onto an adventure-filled journey, Dhara meets and captures the heart of Siddhartha, whose skill in the martial arts and extraordinary mental powers equal her own.
Worldly power and pleasure seduce Dhara, creating a chasm between her and her husband, who longs to follow a sage's solitary path. She takes on the warrior's role Siddhartha does not want, and when she returns wounded from battle court intrigue drives them further apart. As Siddhartha's discontent with royal life intensifies, Dhara's guru Mala, who has returned to her life as a ruthless outlaw, seeks her former pupil for her own evil purposes.
Dhara's and Siddhartha's love keeps evil at bay, but their son's birth brings on a spiritual crisis for the prince. If he leaves his kingdom to seek enlightenment, he turns his back on love and duty and risks destroying his people. Only Dhara can convince him to stay.
FOR MORE INFORMATION:
Amazon | Barnes & Noble
****************************************
Meet the Author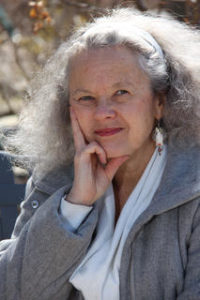 Shelley Schanfield's passion for Buddhism and yoga arose sixteen years ago, when she and her son earned black belts in Tae Kwon Do. The links between the martial arts and Buddhist techniques to calm and focus the mind fascinated her. By profession a librarian, Shelley plunged into research about the time, place, and spiritual traditions that 2500 years ago produced Prince Siddhartha, who became the Buddha. Yoga, in some form, has a role in all of these traditions. Its transformational teachings soon prompted Shelley to hang up her black belt and begin a yoga practice that she follows to this day.
Because she loves historical fiction, Shelley looked for a good novel about the Buddha. When she didn't find one that satisfied her, she decided to write her own novels based on the spiritual struggles of women in the Buddha's time. She published the first book in the Sadhana Trilogy,
The Tigress and the Yogi
, in 2016 and will publish the second,
The Mountain Goddess
in early 2017.
WEBSITE & SOCIAL LINKS
****************************************
MY THOUGHTS
Choices to be made. Love, duty and freedom. Dhara wants to learn from the yogi Mala who is a strange women and is known to have violence in her past. Dhara leaves her clan to go to Mala. Dhara has quite a journey meeting Siddhartha along the way. Both have exceptional mental capabilities and martial arts.
Dhara is enchanted with power. This doesn't set well with her husband who just wants a solitary life. Since Siddhartha doesn't want this worldly power and pleasures it brings, she becomes the warrior.
The have a son. Siddhara is very unsettled. He wants to find peace but if he leaves to do so he could destroy his family. How can he be convinced to stay and who can do it?
This world that The Mountain Goddess is set in gave birth to yoga and Buddhism. If you like fantasy and historical epics this may draw you in.
The book has females that are strong willed and you get a female's look at things.
A different world, a different time but some connections to our world, our time.
I received a copy of this book from the author and PUYB and voluntarily decided to review it.
I would give this book 4 STARS.
_______________________

GIVEAWAY!
Shelley Schanfield is giving away a FREE Kindle copy of THE MOUNTAIN GODDESS!
Terms & Conditions:
By entering the giveaway, you are confirming you are at least 18 years old.
One winner will be chosen via Rafflecopter to receive both books
This giveaway ends midnight April 28.
Good luck everyone!
ENTER TO WIN!
Tour Schedule
Monday, March 6

Tuesday, March 7
Wednesday, March 8
Thursday, March 9
********
Monday, March 13
Tuesday, March 14
Wednesday, March 15
Thursday, March 16
*******
Monday, March 20
Tuesday, March 21
Wednesday, March 22
Thursday, March 23
********
Monday, March 27
Tuesday, March 28
Wednesday, March 29
Thursday, March 30
Friday, March 31
*******
Monday, April 3
Tuesday, April 4
Wednesday, April 5
Thursday, April 6
*******
Monday, April 10
Tuesday, April 11
Wednesday, April 12
Thursday, April 13
********
Monday, April 17
Tuesday, April 18
Wednesday, April 19
Thursday, April 20
*******
Monday, April 24
Tuesday, April 25
Wednesday, April 26
Thursday, April 27
Friday, April 28
********
GOODREADS REVIEW LINK
AMAZON REVIEW LINK