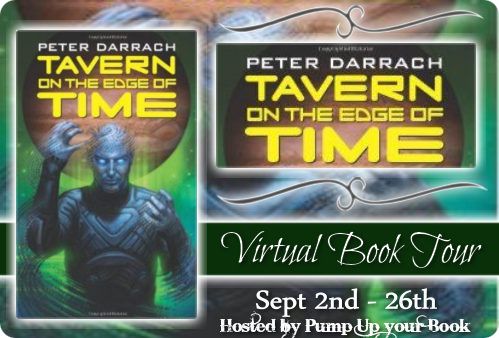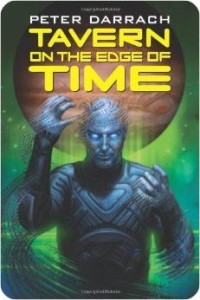 TAVERN ON THE EDGE OF TIME
Second Skin Sequence
Book Three
by
Peter Darrach
During the year 2125, former asteroid miners Max Cody and Elaine Zhou never get a moment's rest. No sooner have they doused the flames of war between Earth and Mars or returned from their first trip to the Tavern on the Edge of Time when they are called upon to help fit out the fledging Martian colony orbiting Jupiter's moon Callisto. In parallel, Earth extradites the war's fomenter, ex-billionaire arms merchant Xanthus Rex, hoping to gain from his insights into Martian teleportation technology, but he manages to turn Earth's resources toward private revenge against Max, Mars, and the Callisto Colony. In the meantime aliens are leaking into the Earth-Mars continuum from the Tavern, whose proprietor repaired and upgraded Max after accidentally injuring him during an asteroid mining expedition. Max's enhancements help, of course, but when strange beings with the power to animate matter—the Assemblers—find their way to Earth, Max, Mars, and humanity are sorely beset. Worse yet, the Tavern itself is becoming unstable, its acquisitive host having overstretched his considerable powers. His prospecting for collapsed neutron matter has also opened portals between continua, inadvertently adding still more aliens to the mix. That's when the Assemblers' overlord arrives and Max finally meets his match. Oh, and Elaine is expecting their hybrid baby. Yes, you might say these are difficult times at the Tavern on the Edge of Time.
Paperback: 366 pages
Publisher: CreateSpace Independent Publishing Platform (December 10, 2012)
Language: English
ISBN-10: 1478359803
ISBN-13: 978-1478359807
Peter Darrach has lived in New York, London, Prague, Munich and Vienna. He holds a Bachelor of Arts degree in English Literature and a Master of Arts degree in German Literature, both from Pennsylvania State University. Darrach pursued a career in sales and marketing in fields as diverse as amusement parks and retail before moving to Europe in 1991. Since then he has worked in Eastern and Western Europe, holding a series of executive positions with blue chip FMCG companies. Most recently he has returned to the U.S. to pursue his career as a business coach and fiction author and currently lives in Florida.
His latest book is the sci-fi,
Tavern on the Edge of Time
.
For More Information
REVIEW
The author wrote one fantastic series. The reader ended up being delivered into the world of which he created. The story is written at a good pace and leaves the reader turning the pages quite quickly I'm not a sci-fi reader, but I have thoroughly enjoyed this book. I believe he will be one I will put on my author's books to read. I would suggest that you read all tree books in series. There are some parts that get connected as you read more and more. I'm waiting for book 4 and I hope it will be soon. The author characterized the people in the book so well that you feel a part of their lives. You not only get a visible look at the characters but you get into their minds and their hearts. You can't help but love this series. It''s a fun read and we all need a little fun in our lives. If you want a little getaway from everyday hum drum, then try reading this book and let yourself go on the journey to Mars.You will get a little bit of everything, romance, science, adventure and more. A good sci fi book.
I was given a complimentary copy of Tavern On The Edge from Peter Darrach and Pump Up Your Book for my view of the book. No other compensation took place.
I would give this book 4 STARS.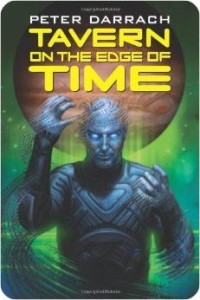 OTHER BOOKS IN THE SERIES
http:// bemiown.blogspot.com
bemiown@yahoo.com
www.pumpupyourbook.com
https://www.goodreads.com/review/show/1057233306
http://www.amazon.com/review/R316EX9PPXN7A1/ref=cm_cr_dp_title?ie=UTF8&ASIN=1478359803&channel=detail-glance&nodeID=283155&store=books
"He always treated me with respect."
Max Cody
"
"He should have made me his own hero."
"Peter let me do my own thing."
"He always treated
me with respect."