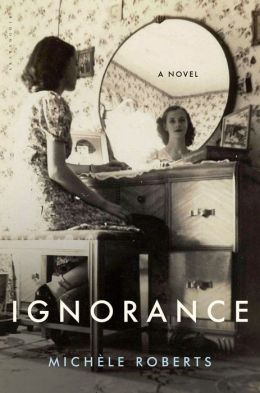 IGNORANCE by Michele Roberts
SYNOPSIS: From Amazon
Jeanne and Marie-Angèle grow up, side by side yet apart, in the Catholic village of Ste Madeleine. Marie-Angèle is the daughter of the grocer, inflated with ideas of her rightful place in society; Jeanne's mother washes clothes for a living and used to be a Jew. When war arrives, the village must play its part in a game for which no one knows the rules – not the dubious hero who embroils Marie-Angele in the black market, nor the artist living alone with his red canvases. In these uncertain times, the enemy may be hiding in your garden shed and the truth can be buried under a pyramid of recriminations. A mesmerising exploration of guilt, faith, desire and judgement, Ignorance brings to life a people at war.
OVERVIEW:
Jeanne Nerin,was born to a Jewish woman who converted to a Catholic. She is schooled by the nuns after her father died and her mother became ill. Jeanne's mother works for Madame Baudry as housekeeper and laundress. Marie-Angele Baudry, the daughter of Madame Baudry and Jeanne are the only two full time boarders at the convent school. They are there since Jeanne's mother has been hospitalized, leaving Jeanne with no one. Marie-Angele is there since her mother is pregnant and has no one to do the household work. .
Jeanne is the bad seed who has a relationship with the Hermit, with his strange artist ways. Marie Angele is from the "good" citizen family.
One time the girls went into the Jewish hermit's studio when he wasn't there.. They went through his things but left not understanding what they found. Best not to know Where did the clothing and jewelry given to Marie Angele come from? Best not to know. What about Jeanne's disgrace? Best not to know. Why concern yourself with people who won't be around for long? The Jews were foreign. The women were whores. Jews brought about Communism. People only cared about themselves. Why care about the ones who were different?
REVIEW:
Michele Roberts wrote a fast-paced book. The setting is a mixture of religion, strange and unusual characters, morality and so much more. The story revolves around the French countryside between 1931 and 1945.
Ignorance is sometimes hateful, extremely painful, selfish and always there. If you don't know or profess not to know then how can you be blamed for anything? They say "ignorance is bliss" but it truly isn't. There is the type of ignorance where a person has never learned about things and there is ignorance of our own making. Knowing, but turning our heads the other way and professing not to know.
Girls grew up in an ignorance of sex. Girls only needed a small amount of education. Too much was dangerous and wasn't what their culture required from women. There were two episodes that formed Jeanne's idea of what it is to be a woman. Marie-Angele watches as Jeanne is told to disrobe herself to a priest who is looking for sexual gratification. The Hermit, who is into pornography draws Jeanne sometimes nude.
The girls have grown and left the convent by the time of the second World War. The main story focuses on their lives and the people in their lives. Meets a Frenchman and gives birth to a daughter. She named her Andree. Maurice, who is a black marketer, does business with Marie-Angele's parents.. He seduces and marries a pregnant Marie-Angele.Marie-Angèle's , While he is married, Maurice meets Jeanne who is a cleaning lady at a bordello.
The author writes a magnificent story of humiliation, disgust, fear and ignorance. That just barely touches the surface of the descriptions that the author relays to the reader. She feels and knows of these emotions.
She writes in a way that you almost can feel these emotions yourself and they are painful, but so real. This novel is about hatred and brutality towards the "unimportant" lives. The hopes and dreams that gradually fade away because of the realization they will never happen. It's about children whose worst fears are sometimes reality. As children they tell of people they never saw again, of parents who didn't care, but as adults, this becomes another reality, as Jewish children are taken to death camps. Ignorance comes to play once again as the upper class preferred "I didn't know" to "We've got to do something."
This was a horrific time in our history. Can the ignorance be faced even after decades of time? Maybe more time will tell. I just believe the heads will always turn the other way and ignorance will remain.
AUTHOR:
Michele Roberts is the author of twelve highly acclaimed novels, including The Looking Glass and Daughters of the House, which won the WH Smith Literary Award and was shortlisted for the Man Booker Prize. Half English and half French, Roberts lives in London and in the Mayenne, France. She is Emeritus Professor of Creative Writing at the University of East Anglia and was recently made a Chevalier de l'Ordre des Arts et Lettres by the French government.
I give this book 5 STARS.
I received a complimentary copy of this book, IGNORANCE by Michele Roberts, from Net Galley for this unbiased review.
http://bemiown.blogspot.com
http://www.goodreads.com/reviews/list
http://www.shelfari.com/bemiown