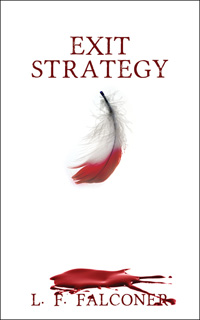 CONTAINS MATERIAL THAT MIGHT BE UNSUITABLE FOR SOME READERS!
If a train leaves Boston, does it ever stop screaming?
OVERVIEW:
Caught in a web of sex, lies, and murder, Jonas Dumar wants out, and finds himself running for his life in a journey of desperation. But are Gabe and Izzy, who seem hell-bent on driving him insane, assassins, angels, or something else altogether? Take a wild voyage across the North Atlantic with a man in possession of too many secrets as Jonas soon come to learn that a man really can learn more about himself than he ever wants to know.
REVIEW:
Enters Jonas Dumar. He faces a murder charge he says he didn't commit.
He has a lot of problems, a lawyer who is a bit flaky, a "Little Brother" who gets into trouble and so much more. More than Jonas even knows. Jonas decides to run, leaving behind not only the problems but the woman he professes to love and marry. The one true friend in his life, Sam, he takes with him.
He takes to the seas across the North Atlantic with more passengers than he realizes. As he tries to ease the loneliness of the trip, he takes on two passengers. Soon he wishes he hadn't, but was it just paranoia or reality setting in? Jonas has kept inside for so many years, secrets upon secrets that he has become possessed by them. He has created several personalities of himself. He is Billy, the bad ass kid. Don't hurt Jonas or you'll pay. There's Danny, the college do-gooder and there's Jonas. Jonas had tried the doctors, the pills, but nothing helped the panic and the pain. To think it started from childhood and a simple goldfish. Billy had rescued him so many times, but now Billy's true personality came to life. The goldfish died because it was taking too much of Jonas' time.
As the excursion continues, unknown forces appear as Gabe and Izzy. The clue to their reality or un-reality is a simple white feather. What does it mean? As time passes Jonas becomes more and more aware of the past and the present. The past has always haunted him but now it's become more so. It's almost to the point where the paranoia is with him constantly. He's finding out more and more of what Billy and Danny have done. He discovers he knows more than he wants to.
As the story progresses, Jonas is faced the fact that some things are better left unknown and buried. But Jonas has brought it all out, every little dirty detail and it's killing him, or should I say, his alias is killing him?
The author wrote one fantastic, fictional mystery. One story that could actually take place in reality. Maybe? The book was fast paced at the right times and casually paced when needed. She left a lot to the imagination and then on the next page, you'd find out if you were right or not. She led you on a voyage between sanity and insanity. You would wonder at times, was Jonas imagining the things that were happening or were they real. This is one trip everyone should take, because it could happen to you. It may be happening now.
AUTHOR BIO:
Raised on a ranch in rural Nevada, L.F.Falconer has lived in various places throughout the West, including Portland, OR, Santa Cruz, CA, and Reno and South Lake Tahoe NV. Now back in her hometown of Fallon, she enjoys getting off the beaten path and exploring the back roads whenever possible. Her first novel, HOPE FLIES ON BROKEN WINGS, was released in 2012.
I give this book 5 out of 5 STARS. Kudos to the author for this wonderful work of fiction. Fiction?
You must look at this wonderful cover. Such simplicity can tell so much.
I received a complimentary copy of this book, EXIT STRATEGY by F.L.Falconer for this unbiased review.
http://bemiown.blogspot.com
http://www.amazon.com/gp/cdp/member-reviews
http://www.goodreads.com/review/show/537638234
for more information, visit
http://www.outskirtspress.com/exitstrategy