PUMP UP YOUR BOOK VIRTUAL BOOK TOURS
PRESENTS A REVIEW CAMPAIGN FOR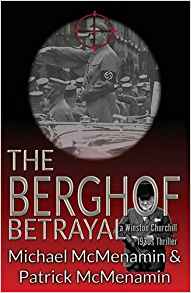 THE BERGHOF BETRAYAL
A Winston Churchill 1930's Thriller
by
Michael and Patrick McMenamin
Publisher: First Edition Design Publishers
Pages: 433
Genre: Historical Thriller
BOOK BLURB:
In early 1933, the Nazis plan a fake assassination attempt on Adolf Hitler, the new German Chancellor. This fake attempt will allow the Nazis to declare martial law and liquidate their political opponents. Churchill learns of the fake plot and persuades Mattie McGary, his adventure-seeking Scottish god-daughter and William Randolph Hearst's top photojournalist, to investigate. The plot turns perilous for Mattie when she is kidnapped by Hitler's enemies within the Nazi party who are conspiring with renegade elements of his own SS to turn the fake assassination attempt into a real one.
Keywords: Churchill, Hitler, Göring, Roosevelt, Plot, Assassination, Nazi, Conspiracy, Zeppelin, Autogiro
Review Copies Available: THE BERGHOF BETRAYAL by Michael & Patrick McMenamin #historical…
Click To Tweet

AUTHORS: Michael McMenamin is the author of the critically acclaimed Becoming Winston Churchill, The Untold Story of Young Winston and His American Mentor [Hardcover, Greenwood 2007; Paperback, Enigma 2009]. He is an editorial board member of Finest Hour, the quarterly journal of the Churchill Centre and Museum in London and a contributing editor for the libertarian magazine Reason. His work also has appeared in two Reason anthologies and The Churchills in Ireland, 1660-1965, Corrections and Controversies [Irish Academic Press, 2012]

Patrick McMenamin, the other half of the father-son writing team, is an award-winning journalist who has produced stories for John Stossel at ABC News 20/20 and Fox News Channel and for Judge Andrew Napolitano at Freedom Watch on Fox Business Channel. He is now a senior producer at HuffPost Live. He is a Phi Beta Kappa cum laude graduate of the University of Rochester with departmental honors in 20th Century European History and Film Studies.

Michael and Patrick are the co-authors of the award-winning 1930s era "Winston Churchill Thriller" series. The first three books in the series--The DeValera Deception ,The Parsifal Pursuit and The Gemini Agenda --all were named Grand Prize Winners for Fiction by the Next Generation Indie Book Awards and Book of the Year for Thriller/Suspense and Historical Fiction by ForeWord Reviews.
MY THOUGHTS:
First off: This book is for mature readers. It contains violence, sex, adult language. People like thrillers for different reasons. Some like the suspense, the mystery, the moment when you hold your breathe, the edge of your seat anticipation and some like it all. This thriller grabs you from the moment you start reading and then it gradually grabs you harder and harder and won't let go. The authors give you descriptions of the main characters and you can almost reach out and touch them. The story is like a spider web with angles and cross overs that only add to the suspense. You never quite know where the story is going next. The anticipation grows. It's centered around power and what someone will do to gain that power. The story is set in America and most in Germany in the year 1933. The main subject of the story is Hitler. Two stories that run side by side but with Hitler as their center point. We all think of Hitler as this evil, hateful, rather sadistic person, but in this story Hitler isn't the one that we are looking at as being the evil one. IT is someone else. That person being Reinhard Heydrich. The authors have written three other stories in the series. They can be read alone or in the series. There seems to have been a good deal of historic research that went into this book. The author gives you evil and then a step beyond, PURE EVIL! As we all know there is a certain amount of evil in everyone. It depends on the circumstances as to whether that evil surfaces. Some people can be the perfect good person and then turn. We are then given the ever present women and they were Mattie Campbell McGary, and Ingrid. Many found them desirable. Some even risked everything to help them. It does take two to tango as they say. These two women did their own sacrificing and in turn risked a part of their lives also. But will there be a romance come from any of these relationships or one night stands.? That was a bit hard for me to see, since so much was compromised. There is no figuring this story out after a few chapters. So much is involved and what you expect to happen doesn't. The authors give a fascinating, interesting historical read, pushing you on to the next page and the pages after. But there will be characters you really want to get their dues. But will they? I didn't mention Churchill. That's for you to read and find how Churchill fit in. There was a lot going on and at times I had to stop and think to keep it straight. Perhaps reading the first three books in the series would have helped. All in all I would recommend this book. It captivates you!
I received a copy of this book from the author and PUYB and voluntarily decided to review it.
I would give this book 4 STARS.
GOODREADS REVIEW LINK
AMAZON REVIEW LINK

MEDIA CONTACT:
Dorothy Thompson
CEO/Founder PUMP UP YOUR BOOK
Winner of P&E Readers Poll 2016 for Best Publicity Firm