YOU GOT THIS!
A Motivational Guide for Achieving Your Goals
by James Kademan
...............................................
A BOOK CAMPAIGN PROUDLY BROUGHT TO YOU
BY PUMP UP YOUR BOOK VIRTUAL BOOK TOURS
A Self-Help Motivational Book
To Help You Achieve Your Goals!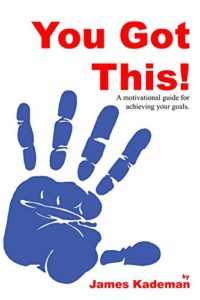 .................................
Inside the Book
Title: YOU GOT THIS! A MOTIVATIONAL GUIDE FOR ACHIEVING YOUR GOALS
Author: James Kademan
Publisher: Independent
Pages: 256
Genre: Self-help / Motivational
BOOK BLURB:
You Got This! A motivational guide for achieving your goals. Written by renowned business coach James Kademan of Draw In Customers Business Coaching. This is a quick read that will drive you to achieve what you have been working on. Sometimes you just need a kick in the rear to get you moving, this is that kick.
For a preview, check out this video:
https://www.youtube.com/watch?v=KaKZ51iaOdg&feature=youtu.be
ORDER YOUR COPY:
______________________
Meet the Author
James Kademan hails from a distinct past that includes a number of experiences that brought him to the point of feeling it was necessary to write a few things down. Like most writers he started with chunks of paper that were strewn all over his desk, house, garage and under more than a few car seats.
After realizing a bit of organization was needed he resolved to grab those notes, combine them, type them, edit them, polish them and ask the world for some honest feedback. That led to a couple books being written. James' first real book,
You Got This! A motivational guide for achieving your goals
was a small slap in the face of typical motivational books. Not through intention, just in its simplistic content.
James Kademan's upcoming soon-to-be bestseller, The BOLD Business Book will hit the shelves in couple short months.
WEBSITE & SOCIAL LINKS:
______________________
MY THOUGHTS
We all have goals that we want to achieve but sometimes they just never get done. Sometimes we just don't have the motivation or the UMPH! to follow through. We need a little push, no, a shove or better yet as the book says, a kick in the rear to get us going. I'm not usually much on self help or motivational books. But I decided I would try this one. This isn't a long drawn out book . It's one page the same as the next and the next and so on. I get the point of it, that if you set your mind to something you got it. You can achieve your goal. A lot of motivational books are so long, I just lose interest before I'm a few pages in. This book is 256 pages and it doesn't take long to read it.About 1 minute actually. A lot of times it seems that achieving what you want to is impossible but it IS POSSIBLE! It depends on more than just setting your mind to it. A lot more. This applies to business as well as personal goals. Sometimes we expect too much too soon and we need to be patient and move forward at a steady pace that is comfortable. When we expect too much too soon we get discouraged because it doesn't happen quick enough. To be quite honest, I felt this was a waste of paper, a waste of money. It has a good idea which we all should try but REALLY? Page after page of three words? There's more to striving to achieve your goals then YOU GOT THIS! Even when you set your mind to things, often they don't turn out as you would have liked. Sometimes, you DON'T have it! Sometimes things just aren't meant to be. I believe the author had a great idea, but there, to me, is more to it than telling yourself over and over - YOU GOT THIS!
I received a copy of this book from the author and PUYB and voluntarily decided to review it.
I would give this book 2 STARS.
AMAZON REVIEW LINK
..........................................................................................................................

MEDIA CONTACT
Dorothy Thompson
CEO/Founder PUMP UP YOUR BOOK
Winner of P&E Readers Poll 2016 for Best Publicity Firm