PUMP UP YOUR BOOK
VIRTUAL BOOK TOURS
IS PLEASED TO BRING YOU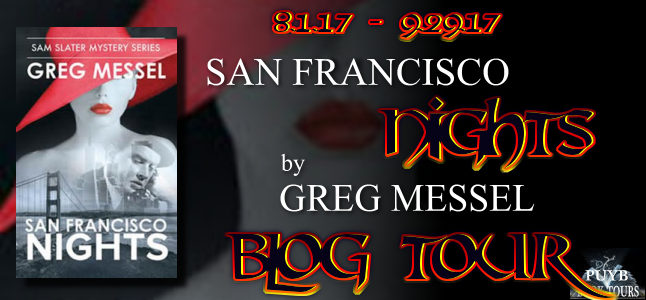 Inside the Book
Title: SAN FRANCISCO NIGHTS
Author: Greg Messel
Publisher: Sunbreaks Publishing
Pages: 232
Genre: Mystery / Suspense
The wife of a wealthy San Francisco shipping magnate leads a secret life but someone is threatening to expose her. Private eye Sam Slater and his wife and partner, Amelia, meet a mysterious woman in a large red hat during a train trip. The woman approaches him pleading for help because she's receiving anonymous notes quoting Bible verses which are becoming more and more ominous with each passing day. Her secrets have been discovered but by whom? What really happens behind closed doors in Room 505 in a swanky downtown hotel?
Sam is willing to take the case but Amelia warns that this woman is nothing but trouble. What does the woman really want? She's been watching Sam for months and has a scheme to pull him into her world.
Find out in the latest Sam Slater Mystery "San Francisco Nights" set in the fall of 1959. It's the seventh book in the series but is a heart pounding stand alone whodunit.
Watch the book trailer at
YouTube
.
______________________
Meet the Author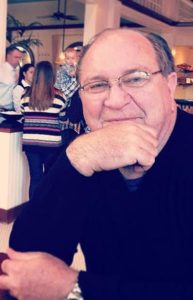 Greg Messel has spent most of his adult life interested in writing, including a career in the newspaper business. He won a Wyoming Press Association Award as a columnist and has contributed articles to various magazines. Greg lives in Edmonds, Washington on Puget Sound with his wife Jean DeFond.
Greg has written ten novels. His latest is "
San Francisco Nights
" which is the seventh in a series of mysteries set in 1959 San Francisco. "Shadows In The Fog," "Fog City Strangler," "San Francisco Secrets," "Deadly Plunge" are sequels to the first book in the series "Last of the Seals." His other three novels are "Sunbreaks," "Expiation" and "The Illusion of Certainty." For a more detailed summary of Greg's novels go to
www.gregmessel.com
Greg is currently working on his eleventh novel "Dreams That Never Were" which is not part of the mystery series.
WEBSITE & SOCIAL LINKS: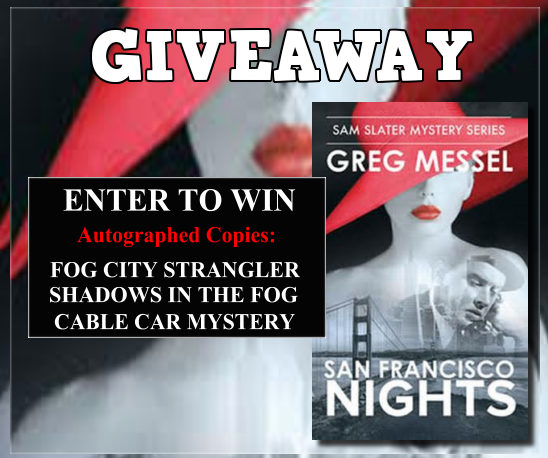 Greg Messel is giving away three of his books!!
Terms & Conditions:
By entering the giveaway, you are confirming you are at least 18 years old.
Winners will be chosen via Rafflecopter.
This giveaway ends midnight September 29.
Winner will be contacted via email on September 30.
Winner has 48 hours to reply.
Good luck everyone!
ENTER TO WIN!
MY THOUGHTS
The setting is San Francisco, 1959.
A woman on a train is keeping her eye on Sam Slater. It appears that she knows Sam but he doesn't know her, but he will remember her, and not only for her large red hat.
She reaches out to Sam saying she is getting notes from an anonymous person and they are threatening her. But Amelia has reservations about this woman. She feels it's trouble brewing. She's flirting with Sam and and that puts Amelia on high alert. How does this woman know Sam so well? What is really up? Well, this woman has a secret that she's hiding. What could it be?
Did it have something to do with Room 505 in a rich, high scale hotel? What happened there? But what happens when she believes her secrets are about to come out? Someone knows something and the woman's secret life is about to explode.
Are Sam and Amelia in danger? Is there murder or maybe another murder in the works? I loved the intrigue of Room 505. What's going on? The author gives you a mystery that has questions from page to page. You become the investigator. You are the one to get the answers to t he questions of what happened in Room 505. The book is a get away for those of you who love Sam Slater and all the escapades that go with it. If you like figuring out mysteries with dark hidden secrets, filled with danger and the unknown, then pick up this 7th book in the Sam Slater Series. You won't regret it, except you will want more of Sam Slater.
I received a copy of this book and voluntarily decided to review it.
I would give this book 5 STARS.
GOODREADS REVIEW LINK
AMAZON REVIEW LINK
.................................................................
Participating Blogs
Tuesday, August 1

Wednesday, August 2
Thursday, August 3
Friday, August 4
**********
Monday, August 7
Tuesday, August 8
Wednesday, August 9
Thursday, August 10
********
Monday, August 14
Tuesday, August 15
Wednesday, August 16
Thursday, August 17
********
Monday, August 21
Tuesday, August 22
Thursday, August 24
*********
Monday, August 28
Thursday, August 31
*********
Monday, September 4
Tuesday, September 5
Wednesday, September 6
Thursday, September 7
********
Monday, September 11
Tuesday, September 12
Wednesday, September 13
Thursday, September 14
********
Monday, September 18
Tuesday, September 19
Wednesday, September 20
Friday, September 22
********
Monday, September 25
Tuesday, September 26
Wednesday, September 27
Friday, September 29
__________________________________________________
MEDIA CONTACT
Dorothy Thompson
Owner, Pump Up Your Book
Winner P&E Readers Poll 2016
PUMP UP YOUR BOOK