PUMP UP YOUR BOOK
VIRTUAL BOOK PUBLICITY TOURS
PROUDLY PRESENTS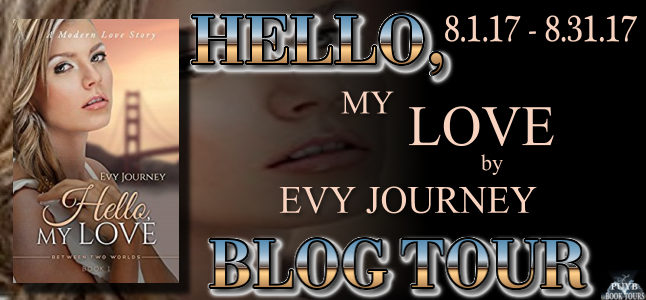 COMMENTS APPRECIATED!
This is a series of 3 strong women
.


Inside the Book
Title: HELLO, MY LOVE
Between Two Worlds
Book One
Author: Evy Journey
Publisher: Sojourner Books
Pages: 317
Genre: Contemporary Women's Fiction
BOOK BLURB:
In this modern-day tale inspired by Jane Austen's
Pride and Prejudice
, bright, beautiful law student Elise Halverson looks forward to a promising career. Falling in love is low in her priorities.
Well-known playboy Greg Thorpe is engaged to be married when he meets Elise. He finds her so unlike the women he used to date and he's deeply intrigued. Distrusting the image she has of him, Elise avoids him.
But Elise's parents invite Greg to their frequent dinner parties. There, Greg and Elise butt heads. She's surprised to find that, behind his rich playboy persona, he's intelligent and engaging.
The night before his wedding, they give in to their mutual attraction. Although Elise expects nothing more from that night, Greg is in for trouble. His jilted fiancée strikes back, intent on revenge.
Two years later Greg and Elise get a second chance but they find that the way to their happy-ever-after is not so easy.
At the core of this women's fiction is a literary and realistic romance spiced with a twist of mystery.
Hello My Love
is Book 1 in the series Between Two Worlds, a family saga about three strong women.
ORDER YOUR COPY:
------------------------------------------------------------------
Meet the Author

Evy Journey has always been fascinated with words and seduced by beautiful prose. She loves Jane Austen and invokes her spirit every time she spins tales of love, loss, and finding one's way—stories she interweaves with mystery or intrigue and sets in various locales. SPR (Self Publishing Review) awarded Evy the 2015 Independent Woman Author bronze for her writing.
She's lived and traveled in many places, from Asia to Europe. Often she's ended up in Paris, though—her favorite place in the world. She's an observer-wanderer. A flâneuse, as the French would say.
The mind is what fascinates her most. Armed with a Ph.D., she researched and spearheaded the development of mental health programs. And wrote like an academic. Not a good thing if you want to sound like a normal person. So, in 2012, she began to write fiction (mostly happy fiction) as an antidote.
Evy's latest book is the contemporary women's fiction,
Hello, My Love
.
WEBSITE & SOCIAL LINKS:
_______________________________
MY THOUGHTS
--------------------------------
A MODERN LOVE STORY
Bad Luck or No Luck?
A love life is at the bottom of Elise Halverson's list. She is a promising, intelligent and lovely law student. But once again, life steps in. Greg Thorpe, marriage plans in the works, but what a playboy. His past is tainted by his run around ways. He meets Elise and is fascinated with her. She's so different from the other women he's known. But there's something about him Elise doesn't trust, so she does everything she can to stay away from him.
But Elise is rather forced to be around him, since her parents invite him to dinner parties. The sparks fly between the two, they don't seem to be on the same page. But as time goes by Elise sees beyond the rich boy cover. He's smart and she's seeing a different Greg than he portrays outward.
Marriage in the future or not, the night before, Elise and Greg's attraction takes over and they sleep together. Neither even think what the consequences will be. Elise thinks this is just a one night stand, that is until, the fiancee finds out and revenge comes out.
Is there any love there? What do they want? Does Greg want his fiancee and can that relationship be mended? Or does he want Elise? Will Elise turn once again to Greg? The Author puts so many questions in the reader's mind. As you turn the pages, you find a web to untangle and at the end, your questions will be answered. To face the consequences of what you do in this case, you would have to have some love there. I wonder, will Greg and Elise hook up a gain? What about the fiancee? Will revenge be sweet?
This book was a different from most. You don't even get any real background on the characters or get to know them before they are in bed together. I wonder if Elise or Greg even thought about the fiancee? Although Greg and Elise were cheating on her, I had mixed feelings. Elise was totally against relationships with men, her career came first and Greg, he had the look of a smart, handsome CEO but he was a player. Then I look at life, life rears it's ugly head all the time and this was a case of life and a decision between two people that would affect not only them but others as well. Mixed feelings on this. I found that the author didn't put in a lot of unnecessary information just to fill time. I did like that. There were a few places that I just found hard to believe but they were just a few. This wasn't a wham bam thank you maam type of book. True there was the sex scene right away in the book and there are adult scenes, it wasn't raunchy. It would definitely be for mature readers though. The author gives the reader TODAY! The events in Greg's and Elise's lives were things that happen TODAY! They are faced with their feelings, their decisions and their future. You get it all, romance, mystery, the question of who was responsible, revenge, the past and oh, so much more. So whose side are you going to be on? Elise, Greg, the fiancee or all?


I received a copy of this book from the author and PUYB and voluntarily decided to review it.
__________________________________________________
Tour Schedule
Tuesday, August 1
Wednesday, August 2
Thursday, August 3
Friday, August 4
*******
Monday, August 7
Tuesday, August 8
Wednesday, August 9
Thursday, August 10
Friday, August 11
*******
Monday, August 14
Tuesday, August 15
Wednesday, August 16
Thursday, August 17
Friday, August 18
********
Monday, August 21
Tuesday, August 22
Wednesday, August 23
Thursday, August 24
Friday, August 25
********
Monday, August 28
Thursday, August 31
__________________________________________________
Dorothy Thompson
CEO/Founder PUMP UP YOUR BOOK
Winner of P&E Readers Poll 2016 for Best Publicity Firm