Pump Up Your Book Presents
The Soldier's Seduction
Virtual Book Publicity Tour
July 3 – 28!



Inside the Book
Title: THE SOLDIER'S SEDUCTION
Sons of Stillwater
Book Two of Two
Author: Jane Godman
Publisher: Harlequin
Pages: 288
Genre: Romantic Suspense
BOOK BLURB:
From the front lines to unexpected romance—and danger—in small-town Wyoming
After a war zone bomb nearly destroyed Bryce Delaney, he's worked hard to hide his scars. Back in his Wyoming hometown, he can pretend the nightmares don't exist. But when a secretive, beautiful new woman in town disappears, Bryce's protective instincts put him on the front lines again.
Wanted for murder and on the run under an alias, former A-list actress Steffi Grantham can't return to her life until she clears her name. It's her boss, Bryce, to the rescue, but desire ties them together, and she's forced to make a choice that could cost them both. Trusting the wrong man once before almost stole her freedom. Now it might take her life.
ORDER YOUR COPY:
______________________
Meet the Author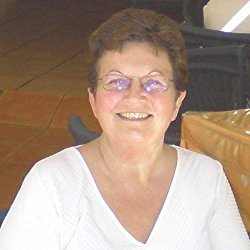 Jane Godman writes paranormal romance for Harlequin Nocturne and SMP Romance, thrillers for Harlequin Romantic Suspense, and steamy historical and gothic romance.
Jane also writes erotic romance as Amanda Stewart.
Her latest book is the romantic suspense,
The Soldier's Seduction.
WEBSITE & SOCIAL LINKS:
MY THOUGHTS:
Mix heat, steam and suspense and your heart will be on fire. Bryce Delaney has scars, scars he's trying to hide. He is trying to put aside the nightmare of war and the bomb that nearly destroyed him. After going back home to Wyoming, he's living a pretend life. He's pretending that the nightmares of that war don't exist, but the problem is, they do. But that pretend world is soon to come to an end. His life will be out there again when he meets a gorgeous woman who is new in town. But there's something unknown about her. A secret of sorts. And then, she's gone, but where.
Bryce comes to the rescue of his employee, Steffi. She's on the run, wanted for murder. What kind of life can you have when you're on the run? Is Bryce the man to trust? Or will he be a danger to her?
The author gives the reader characters that compliment each other. There is suspense, danger, thrill, romance and questions. You feel for Bryce but Bryce is having a hard time facing his past and justfully so. The author puts that bit of a trust issue in the story which makes the reader wonder who can be trusted also. And then there's the question of Steffi. Who has she murdered and why? Is her life in danger by being with Bryce and why?
If you like stories about the effects war has on a soldier, his search for peace and what that search can lead to then try this book and follow Bryce, Steffi and the dangers and realities that face them.
Also connect with the other books:
Book One: Covert Kisses
Book Two: Sons of Stillwater
Book Three: Coming in 2018
Book Four: Coming in 2018
I received a copy of this book from the author and PUYB and voluntarily decided to review it.
I would give this book 4 STARS.
__________________________________________________
Participating Blogs
Monday, July 3
Wednesday, July 5
Thursday, July 6
********
Monday, July 10
Wednesday, July 12
*******
Monday, July 17
Tuesday, July 18
Wednesday, July 19
********
Monday, July 24
Wednesday, July 26
Thursday, July 27
Friday, July 28
__________________________________________________
Media Contact:
Chincoteague Island, Virginia 23336