PUMP UP YOUR BOOK
VIRTUAL BOOK TOURS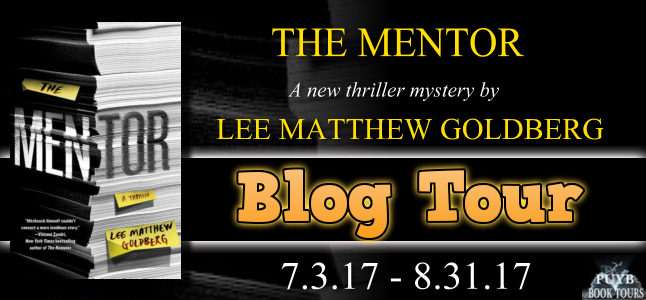 THE MENTOR
by
Lee Matthew Goldberg


Inside the Book
Title: THE MENTOR
Author: Lee Matthew Goldberg
Publisher: Thomas Dunne Books / St. Martin's Press
Pages: 336
Genre: Thriller / Suspense / Mystery
Kyle Broder has achieved his lifelong dream and is an editor at a major publishing house.
When Kyle is contacted by his favorite college professor, William Lansing, Kyle couldn't be happier. Kyle has his mentor over for dinner to catch up and introduce him to his girlfriend, Jamie, and the three have a great time. When William mentions that he's been writing a novel, Kyle is overjoyed. He would love to read the opus his mentor has toiled over.
Until the novel turns out to be not only horribly written, but the most depraved story Kyle has read.
After Kyle politely rejects the novel, William becomes obsessed, causing trouble between Kyle and Jamie, threatening Kyle's career, and even his life. As Kyle delves into more of this psychopath's work, it begins to resemble a cold case from his college town, when a girl went missing. William's work is looking increasingly like a true crime confession.
Lee Matthew Goldberg's
The Mentor
is a twisty, nail-biting thriller that explores how the love of words can lead to a deadly obsession with the fate of all those connected and hanging in the balance.
PRAISE FOR THE MENTOR:
From
Booklist
– A junior editor at a Manhattan publisher reunites with his college mentor with disastrous results in Goldberg's second thriller (after
Slow Down,
2015). Kyle Broder has just acquired a probable best-seller for Burke & Burke publishing when he hears from his former literature professor, William Lansing, who pitches the still-unfinished opus he's been working on for 10 years. Lansing's book is not only badly written, it's also disturbing, featuring a narrator literally eating the heart of the woman he loves. Lansing turns vengeful when his "masterpiece" is rejected, but Broder's concerns about his mentor are dismissed both at home and at work: Broder's girlfriend considers Lansing charming, and a rival editor feigns interest in Lansing's book. Broder revisits his college and delves more deeply into the cold case of a missing ex-girlfriend, and as the plot darkens and spirals downward, it's unclear who will be left standing. The compelling plot is likely to carry readers with a high enough tolerance for gore to the final twist at the end.
ORDER YOUR COPY:
______________________
Meet the Author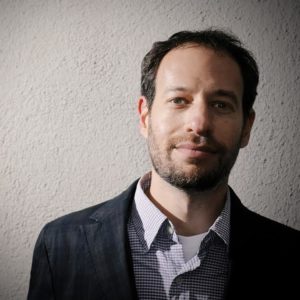 Lee Matthew Goldberg's novel
THE MENTOR
is forthcoming from Thomas Dunne Books/St. Martin's Press in June 2017 and has been acquired by Macmillan Entertainment. The French edition will be published by Editions Hugo. His debut novel SLOW DOWN is out now. His pilot JOIN US was a finalist in Script Pipeline's TV Writing Competition. After graduating with an MFA from the New School, his fiction has also appeared in
The Montreal Review, The Adirondack Review
,
Essays & Fictions, The New Plains Review
,
Verdad Magazine,
BlazeVOX,
and others. He is the co-curator of
The Guerrilla Lit Reading Series
. He lives in New York City.
WEBSITE & SOCIAL LINKS:
MY THOUGHTS
Kyle Broder has always dreamed of being a book editor and now his dream has come true, not only that but he's at a major publishing house. Kyle has been mentored by William Lansing, his college professor. Kyle, his girlfriend, Jamie and his mentor have dinner together and things go great. In conversation, William talks about the novel he's writing. Kyle wants to read it, but as Kyle reads he discovers it is badly written but that's not the bad part. It is depraved, absolutely terrible. Well, when Kyle says he's not interested in the novel, William becomes angry and starts trouble between Kyle and his girlfriend. He doesn't stop there, he threatens Kyle's career and then his life.
Kyle decides to do some further looking into this professor and his novel. As Kyle researches, he finds a strange resemblance to a cold case, where a girl went missing. Is William's novel a work of fiction or is it a confession of a crime he committed?

The author gives the reader a tightly woven web of deceit, possible murder, danger, and suspense. The author shows how you can know a person and not know them at the same time. This book will put you on the edge of your seat and have your heart beating fast. Everyone has a dark side and William definitely does, which Kyle hadn't realized before. Is Kyle's life in danger over this novel? The minute you turn the first page you are caught up in this story of a missing a girl and a novel that may be the confession of her death. The author shows that being envious and the strive of ambition can lead to deadly things if used in the wrong way. Darkness surrounds this novel and that darkness is spreading and fast. It's surrounding Kyle too. Beware, as you start reading you will become hooked. You won't be able to put this tangled web down. William is definitely a psychopath and whoever gets in his way becomes his hunted. Will Kyle be able to bring this predator to justice before Kyle becomes one of Williams, next novels?
I received a copy of this book from the author and PUYB and voluntarily decided to review it.
I would give this book 4 STARS.
__________________________________________________
Participating Blogs
Monday, July 3
Wednesday, July 5
Thursday, July 6
Friday, July 7
********
Monday, July 10
Tuesday, July 11
Wednesday, July 12
Thursday, July 13
*******
Monday, July 17
Tuesday, July 18
Wednesday, July 19
Thursday, July 20
********
Monday, July 24
Tuesday, July 25
Wednesday, July 26
Thursday, July 27
Friday, July 28
********
Tuesday, August 1
Wednesday, August 2
Thursday, August 3
Friday, August 4
********
Monday, August 7
Tuesday, August 8
Wednesday, August 9
Thursday, August 10
********
Monday, August 14
Tuesday, August 15
Wednesday, August 16
Thursday, August 17
*******
Monday, August 21
Tuesday, August 22
Wednesday, August 23
Thursday, August 24
********
Monday, August 28
Wednesday, August 30
Thursday, August 31
__________________________________________________