PUMP UP YOUR BOOK
VIRTUAL BOOK PUBLICITY TOURS
IS PLEASED TO BRING YOU
HEARTS AT SEASIDE
Sweet With Heat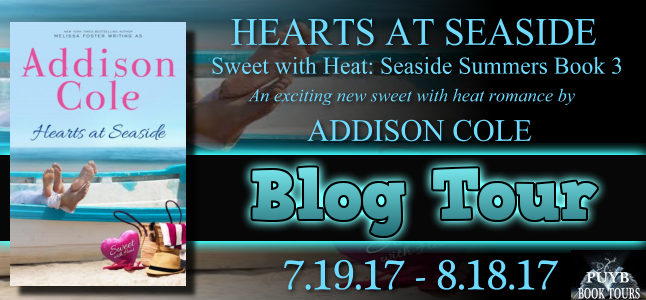 Inside the Book

Title: HEARTS AT SEASIDE (Sweet with Heat: Seaside Summers Book 3)
Author: Addison Cole
Publisher: World Literary Press
Pages: 280
Genre: Sweet with Heat Romance
BOOK BLURB:
Sweet with Heat: Seaside Summers
features a group of fun, flirty, and emotional friends who gather each summer at their Cape Cod cottages. They're sassy, flawed, and so easy to relate to, you'll be begging to enter their circle of friends!
Hearts at Seaside by Addison Cole is the sweet edition of New York Times bestselling author Melissa Foster's steamy romance novel Seaside Hearts.
The stories and characters remain the same and convey all of the passion you expect between two people in love, without any explicit scenes or harsh language.
In HEARTS at SEASIDE…
Jenna Ward is vivacious, spontaneous, and confident–except when she's around the man who stole her heart years earlier, strikingly handsome, quiet, and reliable Pete Lacroux. After years of trying to get his attention and overwhelmed from dealing with her mother's new cougar lifestyle, Jenna's giving up on Peter–and is ready to explore other men.
As the eldest of five siblings, with an alcoholic father to care for, boat craftsman Pete Lacroux always does the right thing and has no time for a real relationship. He's looking forward to seeing his friend Jenna, a welcome distraction who's so sexy and painfully shy that she equally entertains and confuses him.
When Jenna picks up a hard-bodied construction worker, jealousy ignites Pete's true feelings, and he's unable to ignore the desires for Jenna he never realized he had. But Pete's not the quiet guy he appears to be, and his life is anything but conducive to a relationship. Can Jenna handle the real Pete Lacroux–the most alpha male she's ever seen–or will she crack under pressure? And can Pete reclaim the life he once had without tearing apart his family?
SWEET WITH HEAT: SEASIDE SUMMERS SERIES
Read, Write, Love at Seaside
Dreaming at Seaside
Hearts at Seaside
Sunsets at Seaside
Secrets at Seaside
Nights at Seaside
Seized by Love at Seaside
Embraced at Seaside
Lovers at Seaside
Whispers at Seaside
ORDER YOUR COPY:
______________________
Meet the Author

Addison Cole is the sweet alter ego of New York Times and USA Today bestselling and award-winning author Melissa Foster. She writes humorous and emotional sweet contemporary romance. Her books do not include explicit sex scenes or harsh language. Addison spends her summers on Cape Cod, where she dreams up wonderful love stories in her house overlooking Cape Cod Bay.
Addison enjoys discussing her books with book clubs and reader groups and welcomes an invitation to your event.
Addison's books are available in paperback, digital, and audio formats.
SIGN UP for ADDISON'S Sweet with Heat newsletter. Fun, flirty romance with a dash of heat.
www.AddisonCole.com/Newsletter
DOWNLOAD the first book in Addison's Sweet with Heat: Seaside Summers series free: READ, WRITE, LOVE AT SEASIDE on
Amazon
.
WEBSITE & SOCIAL LINKS:


Addison Cole is giving away a $10 Amazon Gift Card or Paypal Cash!
Terms & Conditions:
By entering the giveaway, you are confirming you are at least 18 years old.
One winner will be chosen to receive $10 Amazon Gift Card or Paypal Cash.
This giveaway ends midnight August 18.
Winner will be contacted via email on August 19.
Winner has 48 hours to reply.
Good luck everyone!
ENTER TO WIN!
__________________________________________________
MY THOUGHTS
The author gives us a fun, clean read with a little heat here and there. Friends with cottages at Cape Cod get together every summer for some fun and relaxation. They are far from perfect, just ordinary people with all the baggage everyone else has. You immediately want to be at Cape Cod and joining in the fun.
This is book three of a series all with the same characters. In this book of the series we have Jenna Ward. She is full of vim and vigor and she feels good about herself. But as usual, we have life, and life for her goes a bit astray when she is around her one man. That man being extremely easy on the eyes, rather reserved Pete Lacroux. He had her heart and he broke it. She had tried hard to get him to notice her romantically but after years of trying, she gave up on Peter. She began looking at other men.
Peter with other obligations felt he didn't have time for any romance in his life but Jenna was always a welcome distraction. No romantic interest, just friends? Until she finds a buff, sexy construction worker. Now this was enough to make Peter straighten up and take note. He's beginning to realize he has feelings, not just friendship, for Jenna. But Peter isn't quite what he appears to be, there's more there, much more.
The author gives us a romantic read that brings characters that you can relate to. Haven't most of us wanted to be with someone who just didn't notice us? That's what happened to Jenna. And haven't we all known someone who was so intent on his own life, he didn't take time to notice someone cared and wanted to get to know you better? The author starts you out thinking Peter is this quiet, shy guy, but then, makes you wonder kind of man he really is. The author put just enough spice in this story without taking the sweetness away. You could actually place yourself in Jenna's shoes. You may have been there, just as she is.
The story flows nicely and at a steady pace. It's a fun and relaxing read. The characters are well described and they are like people you may or may have known, perhaps even yourself. The setting of Cape Cod couldn't be more than perfect. Imagine being at the seaside with friends, relaxing, enjoying and yet, the baggage is still there. It never goes away.
I received a copy of this book from the author and PUYB and voluntarily decided to review it.
Tour Schedule
Wednesday, July 19

Thursday, July 20
Friday, July 21
********
Monday, July 24
Tuesday, July 25
Wednesday, July 26
Thursday, July 27
Friday, July 28
********
Tuesday, August 1
Wednesday, August 2
Thursday, August 3
Friday, August 4
********
Monday, August 7
Tuesday, August 8
Wednesday, August 9
Thursday, August 10
Friday, August 11
*******
Monday, August 14
Tuesday, August 15
Wednesday, August 16
Thursday, August 17
Friday, August 18
__________________________________________________
Dorothy Thompson
CEO/Founder PUMP UP YOUR BOOK
Winner of P&E Readers Poll 2016 for Best Publicity Firm