RESTHAVEN
by
Erik Therme
ABOUT THE BOOK
2016 Kindle Scout Winner

The last thing Kaylee wants to do is participate in a childish scavenger hunt--especially inside the abandoned retirement home on the edge of town. When she finds a bruised, deaf boy hiding inside one of the rooms, she vows to lead him to safety . . . only to discover the front doors are now padlocked, and her friends are nowhere to be found. Kaylee is about to learn that not everything that goes 'bump in the night' is imaginary, and sometimes there are worse things to fear than ghosts.
ABOUT THE AUTHOR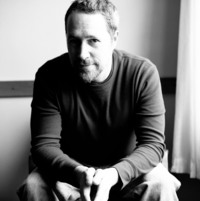 Erik Therme has thrashed in garage bands, inadvertently harbored runaways, and met Darth Vader. When he's not at his computer, he can be found cheering for his youngest daughter's volleyball team, or watching horror movies with his seventeen-year-old. He currently resides in Iowa City, Iowa—one of only twenty places in the world UNESCO has certified as a City of Literature. Join Erik's mailing list to be notified of new releases and author giveaways:
MY THOUGHTS
I read Mr. Therme's first book, Mortem and this being his second, I was anxious to read.If you like scary books, and I do, than don't let this one pass you by. Our main character, Kaylee is strong and smart. It seems she was especially created just for this story. She fits the part so well. Of course, there were other characters who were special in their own ways, some you will like and some you won't.Written as a YA book, it isn't just for Young Adults. This is a page turner and with each page there are twists and turns that you are never sure where they are going but it all somehow fits in. This isn't your normal scary book, it will SCARE you! The plot is simple, a group of teens in an old abandoned building on a scavenger hunt for a birthday party.What is weird is the door is locked from the outside. Something is going on there and it just doesn't seem like just an abandoned building. Resthaven is an old abandoned nursing home. Perhaps there are spirits from the ones who died there still lurking in the dark corners. The author gives you a variety of characters which adds interest to the story. You know something is going to happen, you just aren't quite sure what. I liked the fact that the book was one continuous story, no chapters. It just flowed and you, at times, thought twice about turning the pages. What was going to be there? There is a crime that is going to be committed but by whom? Could it possibly be one of the lost spirits? This book isn't a candy coated version for young people but the real scary version. Imagine a dark, deserted, cold abandoned nursing home, called Resthaven, of all things. On top of that, you can't get out, the door is locked from the outside. So read, if you dare, and decide for yourself, spirits or humans lurking in the dark recesses of this building? I certainly hope there is another book in the making because it just keeps getting better and better. BEWARE! Those bumps in the night you hear may be more than the house settling or the wind blowing. There may be more to be scared of than lingering spirits. SO close the curtains, lock the doors and turn on the lights. You might be safe, but then again, you never know!
I received a copy of this book from the author, Erik Therme and voluntarily decided to review it.
I would give this book 5 STARS.
GOODREADS REVIEW LINK
AMAZON REVIEW LINK