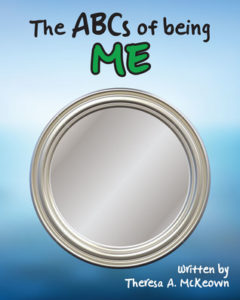 Inside the Book
Title: THE ABCS OF BEING ME
Author: Theresa A. McKeown
Publisher: The ABC's of Everything, LLC
Pages: 26
Genre: Children's Picture Book
The ABCs of Being Me" is meant to be a collaborative work of art created by both the author and the reader. Each letter of the alphabet represents a corresponding character trait. A poem is written about the meaning of each positive intrinsic value expressed with a creative space provided for the reader to contribute the art to go with it.

Once completed it will serve as a permanent reflection of how the reader viewed themselves and their world at a particular moment in time. Part journal, part scrapbook and part photo album – each completed book will be a personal time capsule to be opened, remembered and cherished over the course of a lifetime.
This is a different type of book. It starts with the author giving you an alphabet character. Then there is a little poem about the trait the alphabet letter relates to. Each character relates to a specific trait of the person. The reader then has a space to provide their own artwork of their feelings about that trait at that specific time. How they are feeling about it and any other little things you'd like to draw or write. It is classified as a children's picture book but I felt like it was good for adults as well. Sometimes if we put down in writing or drawing where it's in front of us, it all makes more sense and we can understand ourselves better.
It's like a diary, a journal, an art portfolio and a scrapbook. This is something that you can go back and look at each time you do a letter or wait until you're finished and go back and reflect on what you've written and drawn. It's something that can be saved for future generations so they can get to know you better, while you're still on earth or even after you've gone on to a better place. You and your loved ones can open and go through what you have given of your private self. This can be a thing to cherish and keep forever. If it's a child doing this, then it can be a learning lesson, not only of the letters of the alphabet but to help them understand their feelings and who they are. It would be a nice thing for them to keep until they are older and look back to see if there were significant changes or not and if, they were good changes. Hopefully they are. So you not only get a learning tool, you get a diary, a photo album and a journal. It can be private and personal or you can share it. So don't think it's just for children because it can be very useful, stress relieving and fun for adults too.
I received a copy of this book from the author and PUYB and voluntarily decided to review it.