Tour June 5 – 30!
***********************************************
Joss Landry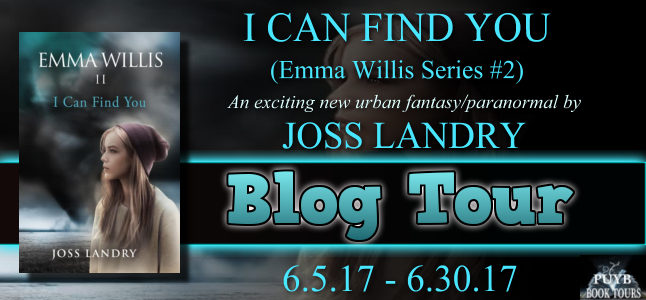 Inside the Book
Title: I CAN FIND YOU (Emma Willis Series #2)
Author: Joss Landry
Publisher: Book Beatles Publishing LTD.
Pages: 372
Genre: Urban Fantasy/Paranormal
Emma just turned fifteen. Her powers have spiraled to include unusual magic, and she gladly relies on Hank and Christina's friendship to mark the way. Thomas Carson's feelings for Emma have changed,her aunt Franka tells her—a young man her aunt describes as a young buck whose testosterone plays a big role in his life.
New friends around Emma surprise her. They appear to be like nothing she could have imagined, and their goals stir more disturbance than their presence until she bumps into the scourge of her existence: entities who wish to control what humans do and say. She learns they are powerful, vindictive and will stop at nothing to obtain what they want. Will Emma be able to protect the people she loves?
ORDER YOUR COPY:
______________________
Meet the Author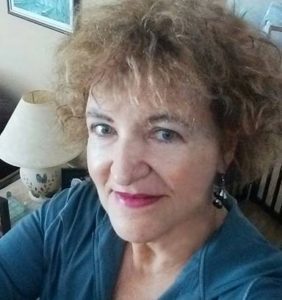 Joss Landry has worked as a consultant for more than twenty years, writing copy for marketing firms and assisting start-up companies to launch their business. She recently made the switch from composing copy and promos, to writing fiction and prose. She is developing her style through courses and the support of other writers and is presently working on honing three other novels for publication.
Blessed with four children and six grandchildren, she resides in Edmonton, Alberta with her husband, a staunch supporter, and enjoys spending time biking, rollerblading, playing tennis, and swimming. She loves creating stories as she says they fulfill her need to think outside the box.
Her latest book is the urban fantasy/paranormal, I CAN FIND YOU (Emma Willis Series #2).
WEBSITE & SOCIAL LINKS:
*************************************************
MY THOUGHTS
Such powers to have at the young age of 15. Emma has a power of some unusual magic, which she inherited from her grandmother. But can this power be a curse or a blessing? There is someone interested in her, but is he interested in her or his huge ego. True he is a good looker but that young finding of testosterone is a huge part of his life. There are new, not friends, no humans, but entities in Emma's life and they are bad. They want complete control of humans. They will get what they want at any cost. Will Emma be able to bring out her powers and help the ones she loves? The pages will turn so fast that you can't wait to find out what's next. The author gives us Emma Willis who has Out of Body Experiences and can see into the past and the future. Now some of us would think that would be great to be able to do that, but with every good think, there is a counter of a bad thing. We not only get our main character of Emma but we get more details about the supporting characters in Emma's life. There's just enough information to keep you interested without getting bogged down with too much detail. As you read you will slowly inch to the edge of your seat. It is one of the few books that take you to a different place. It's about Emma and her powers. You get a close up look into Emma's mind and her abilities. She tries to use her special talents to help those she loves, not to just have fun. They are a good think to her, not bad. You get to know Emma, the people surrounding her and her abilities. The author puts in just a tad of mystery, a little suspense and enough action to keep you interested.. If the paranormal mixed with mystery, a little suspense, fast paced and interesting characters grab your attention then get this book and you might want to get book one to get some background on Emma.
I received a copy of this book from the author and PUYB and voluntarily decided to review it.
I would give this book 5 STARS.
*****************************************************
BOOK ONE
I Can See You
__________________________________________________
Participating Blogs
Monday, June 5
Tuesday, June 6
Wednesday, June 7
Thursday, June 8
Friday, June 9
********
Monday, June 12
Tuesday, June 13
Friday, June 16
********
Tuesday, June 20
Wednesday, June 21
Thursday, June 22
Friday, June 23
********
Monday, June 26
Tuesday, June 27
Wednesday, June 28
Thursday, June 29
Friday, June 30

__________________________________________________
Dorothy Thompson
CEO/Founder PUMP UP YOUR BOOK
Winner of P&E Readers Poll 2016 for Best Publicity Firm
Bloggers! Sign up to host your favorite authors HERE!