PUMP UP YOUR BOOK
IS PLEASED TO BRING YOU
A REVIEW CAMPAIGN
FOR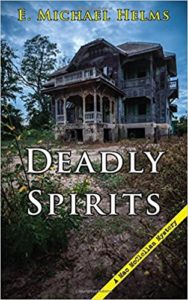 Inside the Book
Title: DEADLY SPIRITS: A MAC MCCLELLAN MYSTERY
Author: E. Michael Helms
Publisher: Coffeetown/Camel Press
Pages: 250
Genre: Mystery
When PI Mac McClellan's girlfriend convinces him to join the Palmetto Paranormal Society, he becomes embroiled in a case of
whooodunnit
. The society president, while investigating an old hotel, is found dead at the foot of the stairwell, his neck broken. The man's secretary and current squeeze stands horrified beside his body. Authorities rule the death an accident. Mac has doubts–no one heard the man tumbling down the stairs. Then the secretary dies in an apparent suicide. Two deaths in two paranormal investigations, and not a peep out of either victim. Mac suspects there's more going on than a vengeful spirit. Book 4 in the Mac McClellan Mystery series, which began with
Deadly Catch
.
About the Author: Born in Marietta, GA, raised in Panama City, FL, live in Westminster, SC, The United States

Influences
Erich Maria Remarque, Sloan Wilson, Ross Macdonald, Robert J. Ray
MY THOUGHTS: Are mysteries your thing? Well E. Michael Helms brings Deadly Spirits, a mystery you can't miss. First question is "Who Dunnit?" This PI Mac McClellan book takes place in Florida. Now if you don't believe in ghosts, then switch on your imagination and if you do believe, this is right up your alley. Now the reason Mac has joined the Palmetto Paranormal Society is because of his "woman". She wants to do a little ghost delving with her honey. Seems like Mac perked the group up and things got going a little bit faster. Not that that was a good thing for Mac, for the reader, yes. Bodies, bodies and more bodies start showing up. These seem to be occuring at the haunted Navarro Hotel. That is if you believe in tha buildings can be haunted. This was a little of a shock for the Palmetto Paranormal Society. They hadn't seen this much action in a while. But taking a look on the other side is what they're supposed to be all about.
Some of the bodies found, well, there could be reasonable explanations for them such as the society's president found at the bottom of a staircase. An Accident? Could very well be. Another a possible suicide? But all of these bodies showing up couldn't be accidents or suicides! Now the author puts you right in the middle of this Paranormal Society and what they are finding. They now have a lot of questions that need answers. Mainly, WHO DUNNIT? The plot is full of twists and turns like a web of deceit that needs untangling.
Never a dull moment when Mac is around. There's always danger and lots of action. He lives a lifestyle similar to our lovable character in the Rockford files, trailer and all. Could it be that he lives in that trailer because his clients seem to die before they pay? He has a lot of good qualities that are important, he has a touch of being a bit old fashioned which means a man stands on his principle, he's good for his word and he is strong. I think that's why I like Mac so much.
With each book, we learn more about Mac and what makes him tick. The bad thing is, the end comes and it leaves you wanting more of Mac and his life. I'm hoping there's going to be a bit more ghost hunting to come.
We are finally left with the question, WHO DUNNIT? Do you know after reading this? Was it human or ghost? Read and find out.
I received a copy of this book from the author and PUYB and voluntarily decided to review it.
I would give this book

5

STARS.
GOODREADS REVIEW LINK
amazon review link

Owner of Pump Up Your Book
Dorothy Thompson
Winner P&E Readers Poll 2016
www.pumpupyourbook.com