PUMP UP YOUR BOOK
IS PLEASED TO BRING YOU
A REVIEW CAMPAIGN FOR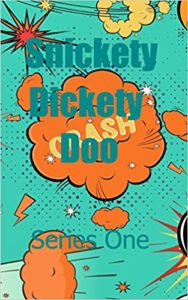 Inside the Book:
Title: SNICKETY DICKETY DOO (Book One)
Author: Danica-Lea Larcombe
Publisher: Independent
Pages: 90
Genre: Children's Adventure
George, Fiona and Marni find a tin of bubbles, not just any ordinary bubbles but planets. The planets shrink the children and take them to faraway lands. The children have many exciting adventures and try not to let their secret be discovered.
DANICA -LEA LARCOMBE

has a B.Sc (Environmental Health), a grad.dip in Education and has taken courses in Journalism, Travel Writing, and Photography. She currently works full-time as an environmental health officer and lives with her small Maltese X dog near the beach.
Danica's first travel narrative was self-published and titled 'Pushing the Boundaries: A Mission to See the World'. It is for sale via Lulu.com and Amazon.com. Over 100 books were sold via bookshops in Perth. Newspaper reviews were very positive.
This second book was also hand written as a travel diary whilst travelling the world for six months, but with quite different countries and experiences than the first. Danica was successfully elected a mentor for six months from the NZ Author Society for this book after the full manuscript was written.

http://thetravelwriter.net.au
What would you think of an old ti

n

can that you dug up in your back yard? Junk, Right? Well Marni opens this tin can and inside is a big surprise. Nine bubbles. What could this be? Well each bubble has one of the solar system's planets in it. But in order to wake the planets up, you have to say the magical words, Snickety Dickety Doo. Magic happens.
When the planets awake, journeys begin to other countries. They have the journey of their lifetime to Turkey, Japan and finally Monaco. But all isn't fun. George, Marni and Fiona while in Turkey are almost killed by some monks. They make a new friend in Paris and the last trip they meet royalty in Monaco. This was an exciting adventure for the children. They met new people, they eat different foods and they have a learning experience.
As I always say, we need more books like this for our young readers. They are just learning and when they can read books like this, they get to experience things they may never get to in real life. They get to learn about different countries and the differences between the way those people live and the way we live. The author wrote this book so that young readers can get a chance to journey, to learn and to enjoy while doing this.
I hope this author continues to write these kind of books for our young readers. Even those who can't read yet, can enjoy while mommy, daddy or grandparents read to them. The adults will enjoy also.
I received a copy of this book from the author and voluntarily decided to review it.

Winner P&E Readers Poll 2016