PUMP UP YOUR BOOK
BRINGS YOU A REVIEW CAMPAIGN FOR
A TRAVEL NARRATIVE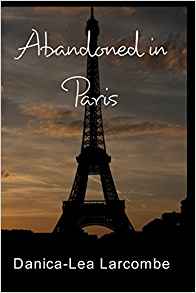 Inside the Book:
Title: ABANDONED IN PARIS
Author: Danica-Lea Larcombe
Publisher: Independent
Pages: 378
Genre: Travel Narrative
Danica is on her second journey around the world, but this time she has a partner to contend with. Soon after they leave he turns nasty, threatening to leave her behind in London. In Amsterdam he gets her deliberately lost while negotiating canals on an old Dutch bicycle. She struggles with an insufficient map getting him lost in Toulouse in a camper-van that will not fit down the back streets. He decides to drive for three days solid from Bavaria to Portugal then kicks her out of the camper in France.
Forcibly walked to a Versailles train station, she sits in a daze on the train to Paris. Where will she stay? What should she do? With broken dreams, little money, no job to go back to, and her possessions scattered over Western Australia, can she pick up her life again?
She walks her luggage up and down the streets of Cambronne desperately trying to find accommodation for the weekend. Being high season she finally gets one night in a room so small she could not sit on the toilet. With one day to make plans where could she possibly go?
But if you knew Danica you would know that she has a huge inner strength and can achieve miracles. Overhearing a couple talk about Venice, Danica took this as a sign. She searched for an Internet cafe, booked a flight for the following morning and two nights at a Venice hostel. And so started the next chapter of her life.
Between discovering Italy, the United States, Alaska, Canada, and Costa Rica she rediscovers herself while regaining her confidence and zest for life.
Finally she gets transported back in time in Cuba where the opportunity for romance is everywhere. Between the horse trainer, the cabaret dancer and the cheeky tour guide, which one will take her fancy?
amazon buy link
THE AUTHOR
Danica-Lea Larcombe has a B.Sc (Environmental Health), a grad.dip in Education and has taken courses in Journalism, Travel Writing, and Photography. She currently works full-time as an environmental health officer and lives with her small Maltese X dog near the beach.
Danica's first travel narrative was self-published and titled 'Pushing the Boundaries: A Mission to See the World'. It is for sale via Lulu.com and Amazon.com. Over 100 books were sold via bookshops in Perth. Newspaper reviews were very positive.
This second book was also hand written as a travel diary whilst traveling the world for six months, but with quite different countries and experiences than the first. Danica was successfully elected a mentor for six months from the NZ Author Society for this book after the full manuscript was written.

http://thetravelwriter.net.au
amazon buy link
MY THOUGHTS
This is a narrative of Ms. Larcombe's second trip around the world. The difference this time is she has a traveling companion. This must have been quite a trip. While in London,her traveling companion tells her he is going to go on without her. He is being really mean. They get lost several times and then they arrive miraculously in Portugal. He goes on without her in France, leaving her abandoned. She had no choice but to walk to the train station and go to Paris alone. She has no money, no place to stay and nothing but dreams that are shattered. What is she going to do? She arrives in Cambronne but has no where to go. She needs somewhere, anywhere to stay. She finally finds a place, just for one night and then what? Ms. Larcombe is a strong willed woman who finds inner strength to go on. About to begin anew, she takes a flight the next morning to Venice. Here she started over. She finds herself and a new life while traveling Italy, the U.S. Alaska, Canada and Costa Rica. She is her old self again, strong and confident. But there may be more in her future. A possible romance? There are several that could possibly be the one. But who will get her attention? Seems Paris would be a wonderful place for romance. The author wrote an interesting and very thought provoking book about traveling, taking chances and following your dreams. Wouldn't it be nice to travel to Paris and take it all in? Well, not exactly the way Ms. Larcombe did? Being abandoned in a strange place with no where to go would be scary for sure. Not everyone could handle it as well as she did. The book let's you dream a little for what you may like to do or perhaps, what you have done, travel. The book is sad somewhat but it also is a happy story with the possibility of achieving your dreams and growing along the way. We all have dreams. It's getting to accomplish them and see them come true that matters.
I received a copy of this book from the author and PUYB and voluntarily decided to review it.
I would give this book 4 STARS.
AMAZON REVIEW LINK
GOODREADS REVIEW LINK
MEDIA CONTACT
DOROTHY THOMPSON
PUMP UP YOUR BOOK
PUYB