Inside the Book
Title: BIG & FABULOUS, THE LIFE AND TIMES OF BRENDA CANKLES
Author: Randi Sherman
Publisher: Friesen Press
Pages: 282
Genre: Humor Fiction



The time for
BIG & Fabulous, The Life and Times of Brenda Cankles
is now! The emphasis is on positive body image, Big & Fabulous is a truly entertaining story that's strongly written, funny, insightful and bitingly smart. Inside it's covers, readers will find no shortage of acidly hilarious accounts of the highs and lows of living life inside a big and fabulous body.
Imperfect, impervious and improving Brenda Cankles is an unlikely heroine. Unfazed by the enduring censure of society, she is determined to realize the fabulous life that she has always believed is her destiny.
Brenda's story – written in unflinching first person – is utterly unvarnished. Here, find a fantastically real person, sometimes struggling to fit in, but mostly giving the rest of the world the mother-lovin' bird. From her clunky childhood, through her stumbling yet optimistic adolescence to her full figured and unapologetic emergence into adulthood. Brenda is a special brand of warrior. She is big, bold and beautiful. While the quirky cast of characters who surround her is eternally insistent that Brenda live her life in the background and fit into society's mold, she will have none of it.
Author, Randi Sherman's experience as a stand-up comedienne is evident as she delivers, BIG & Fabulous, The Life and Times of Brenda Cankles, the hilarious, often laugh-out-loud novel about the inner most thoughts Brenda Cankles, a very real character who is confident and brave enough to expect the world to accept her on her terms.
BIG & Fabulous, The Life and Times of Brenda Cankles is Sherman's fifth novel, her fourth THE LOBBY has won 17 Awards for Humor and General Fiction.
Watch the book trailer at
YouTube
.
Reviewed By 5 STAR- Readers' Favorite:
Big & Fabulous: The Life and Times of Brenda Cankles is a contemporary humor novel written by Randi M. Sherman. Between the mountains of cigarettes and gallons of cheap booze they consumed, Brenda's parents weren't really up to snuff on how to best raise their three daughters, and they weren't really all that concerned about their shortcomings in that department. Life was to be lived, and they did just that. Brenda and her sisters experienced, in many respects, a charmed childhood as far as most kids would consider their situation. Florence Cankles was no disciplinarian, and she steered clear of any teachers and guidance counselors who might have wanted to discuss her daughters' performances in school. That said, the three of them did all right for themselves. Brenda, the middle child, had it worst, as middle children often do. Hers was the dreaded hump position on the back seat of the car with threats of pain keeping her rigidly in position between her two tormentors. Brenda was also a big girl, alienated and somewhat awkward, and her mother would often tell her that she would have to be grateful for any attention or love cast her way because of her size and ungainliness.
Then a chance performance of Cinderella at her school dramatically changed her outlook on life and her prospects. She was seven at the time, and the performers seemed like the real thing to her — real Prince Charming, real Cinderella. After a riveting performance, she was stunned when Prince Charming knelt down before her and kissed her hand. When the Fairy Godmother interrupted her moment, Brenda was annoyed, if one can ever be annoyed with a fairy godmother. This one assured Brenda that she was special, magical, and would be either a princess or a superhero. Which one would depend on Brenda.
Randi M Sherman's contemporary novel, Big & Fabulous: The Life and Times of Brenda Cankles, is a rollicking and joyful look at a big girl who decides that her destiny is to be fabulous. Once I started reading Brenda's story, I couldn't stop — I didn't want to miss a thing this frighteningly perceptive, funny and powerful woman had to share. I especially loved the holiday tales and the descriptions of her job at Frisch's Delicious, a Kosher deli whose owners become the real, caring parents she had wanted for so long. Brenda is a superstar who can do just about anything she sets her mind to, and it's quite inspirational. She even, somehow, makes a career based on a degree in Art History — a tremendous feat in itself. And Brenda's romantic adventures are a joy to read about. Big & Fabulous is one of those rare books that makes you smile as you're reading, and then sigh a bit as you turn the last page. I loved getting to know Brenda Merle Cankles, and I'm thinking she's definitely one of the most interesting — and fabulous — characters I've encountered, both in fiction and real life. Big & Fabulous: The Life and Times of Brenda Cankles is most highly recommended.
FOR MORE INFORMATION:
Meet the Author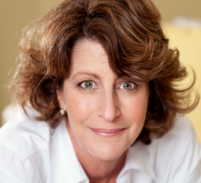 Randi M Sherman is the award winning author of humorous fiction books.
With an eye for detail, an ear for well-tuned dialogue and an incredible grasp of the obvious, all honed while performing stand-up comedy in Los Angeles and improvisational theater in San Francisco, Sherman adds just enough bawdiness to deliver character-driven contemporary novels that will have the reader laughing, thinking and connecting with the characters in her books.
A native Californian, Randi makes her home in California's wine country. Trying her hand at country living Randi describes herself the Eva Gabor of the Sonoma/Napa area.
Randi earned a Bachelor of Science Degree from Chapman University.
WEBSITE & SOCIAL LINKS:
****
MY THOUGHTS
People can be so critical and so apt to tell a person what they should look like, what they should feel, how they should act and all that goes with it. Well Brenda Cankles has a dream of a life that she wants and she's going after it. This story is written in first person and is the raw truth, not tricked here and there, not finished to sound perfect. It is perfect the way it is. In this book you will possibly find yourself, a friend or relative striving for that warm satisfied feeling of being part of it all. Let's dare to be more like Brenda Cankles. Let them know they don't rule you. They can't take away your dreams and no matter what, you can be Big and Fabulous. You don't have to be that skinny little thing that wears a size 0 in order to be happy and go for your dreams. As with Brenda, some of us started out as that pudgy little kid and when those teen years came, we got a little more fuller until adulthood when we became full figured. There's nothing wrong with that. Own what you are and what you look like. OWN IT! Brenda does. She is big, strong and beautiful. Even though some try to keep her in the background, out of sight, Brenda will have none of that. She steps out. She doesn't apologize for who she is, and she shouldn't have to. She knows she is different and she is proud of that. There's no doubt, we all do some strange, odd things but so what? If we're not hurting anyone in the process, who's business is it? Stand up for who you are and give society no other choice other than to accept you, not change or hide you. There are many Brenda's out there in the world. Many Brendas who OWN IT! Many Brenda's we could learn from.
SO if you want a little fun, a little reality, a little OWNING IT, then be sure to read this BIG and FABULOUS Life and Times of Brenda Cankles. You'll feel good after you do. Don't forget, no matter what you look like, no matter what quirky things you do, OWN IT! Remember you are fabulous and gorgeous, each in their own way.
I received a copy of this book from the author and PUYB and voluntarily decided to review it.
I would give this book 5 STARS.
*****
Tour Schedule
Monday, March 6

Tuesday, March 7
Wednesday, March 8
Thursday, March 9
Friday, March 10
********
Monday, March 13
Tuesday, March 14
Wednesday, March 15
Thursday, March 16
Friday, March 17
********
Monday, March 20
Tuesday, March 21
Wednesday, March 22
Thursday, March 23
Friday, March 24
*******
Monday, March 27
Tuesday, March 28
Wednesday, March 29
Thursday, March 30
Friday, March 31
*********
Dorothy Thompson
Owner, Founding Mother of Pump Up Your Book
Winner P&E Readers Poll 2016
PUYB