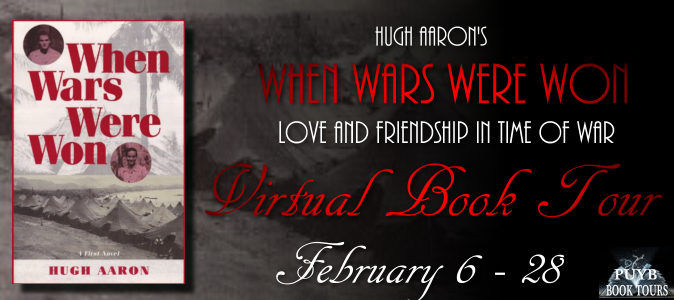 PUMP UP YOUR BOOK
VIRTUAL BOOK TOURS
PROUDLY PRESENTS
Love And Friendship In Time Of War
by
Hugh Aaron
****************************
(IF YOU WOULD LIKE TO COMMENT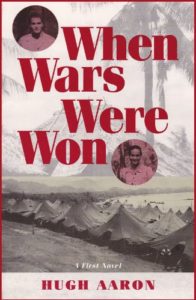 Inside the Book:
Title: WHEN WARS WERE WON
Author: Hugh Aaron
Publisher: Stones Point Press
Pages: 269
Genre: Fiction
Hal Arnold, a professor of English, returns to the Philippines after forty years yearning for the unity, spirit and optimism he knew as a 19- year-old member of a Seabee battalion in the South Pacific theater during World War II. Trying to recapture that experience, he writes this story, vividly portraying members of the battalion who impacted his life. Searching for his own identity, he finds it in the warm, rich culture of a small Filipino village where love and dignity thrive among a people who have suffered under the Japanese yoke.
*********************
Meet the Author

Hugh Aaron,
born and raised in Worcester, Massachusetts, was a Seabee in the South Pacific during World War II. After the war he graduated from the University of Chicago where his professors encouraged him to pursue a literary career. However, he made his living as CEO of his own manufacturing business while continuing to write. He sold the company in 1985 to write full time. To date he has written two novels, a travel journal, a short story collection, a book of business essays, a book of his WWII letters, a child's book in verse and a collection of movie reviews.
The Wall Street Journal
also published eighteen of his articles on business management and one on World War II. He resides by the sea in mid-coast Maine with his artist wife.
His latest book is
When Wars Were Won
.
You can visit his website at
www.StonesPointBooks.com
.
******************
Setting: World War II, Seabee battalion (The Naval Construction Battalions) Pacific Theater
Narrated By: Hal Arnold forty years later.
Hal Arnold is only nineteen and he is learning about life from the men in the battalion,

this was a battalion of tradesmen,

that are much older than him. He is also learning from the daily life of war. These were men who were dedicated to win the war even though the conditions were far from good.
The reader follows him while he is on a troopship and crossing the ocean. He meets man that is out for himself and will do whatever it is to get there. His name is Barry Fortune. Hal is young and is taken in by Fortune. He finds a fascination in him. Even though Hal has a different outlook on things they become friends. Then there is a turn, Barry has a girl friend back in the U.S. Hal starts to correspond with her and it eventually becomes more than just friends.
The author gives the reader a look into the commander and his outlook on his decisions. I found it interesting that this man was making decisions that were more than not, wrong. He was a steadfast man who thought he was always right. We see how there was discord between all the members of the battalion, from the top to the enlisted men. These men were building roads, docks, etc. These efforts were taking place often during the Japanese shooting at them. A tough, thankless job for any man, young or old. But Hal was just a young, unknowing man, but he was learning, and learning about things that were gut wrenching and tough.
The author gives characters that seem to come and go throughout the book. But each character has a part in Hal's life. They all have something to add to Hal's life. Everyday events, bombings, the killing of Hal's battalion friends, the war itself all had an affect on him in one way or another.
Probably as the war moved north to the Philippines, he began to discover how the Japanese were changing the Filipinos lives. He starts to share the way they live and soon finds romance with a native girl. The author shows some of the extremely bad things that came out of the war.
This story is Hal's coming of age. Most of the story is about things that happened during the war but not pertaining to battle itself. But no matter what happened day to day, it affected the men and it would stay with them forever.
Hal learned some valuable lessons during this time in his life. He grew, physically and emotionally. He dedicated his time in the battalion to winning the war, just like his battalion buddies.
You don't want to miss this memoir of a young man's coming of age during some of the hardest conditions a man could face.
I applaud Hal Arnold for his service and dedication.
I received a copy of this book from the author and PUYB and voluntarily decided to review it.
******************
PARTICIPATING BLOGS:
Monday, February 6
Tuesday, February 7
Wednesday, February 8
********
Monday, February 13
Tuesday, February 14
********
Tuesday, February 21
Wednesday, February 22

Thursday, February 23
********
Tuesday, February 28