We invite you to
Brenda B. Taylor's
A HIGHLAND RUBY
***********
PUMP UP YOUR BOOK
Virtual Book Tour February 6 – 28!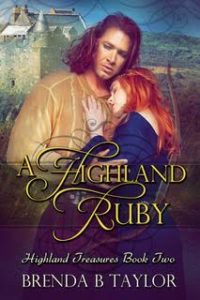 Inside the Book:
Title: A HIGHLAND RUBY
Highland Treasures
Book Two
Author: Brenda B. Taylor
Publisher: Bethabara Press
Pages: 207
Genre: Historical Romance
She must choose between a life of adventure with the man she loves or a settled, secure life with her betrothed. Flora Vass forced Gavin Munro out of her heart and mind until he returned to Scotland after an adventurous five years in the New World. Gavin leaves no doubt he returned to make the bonnie Flora his own and intends to fight for her. Flora's betrothed, Iain MacKay, and Gavin's brother, Chief Andrew Munro, have other plans. Andrew needs her to marry the MacKay and bring peace between the two clans. Iain MacKay desires an heir. War with England looms on the horizon, forcing Flora to make crucial decisions
.
Meet the Author

The desire to write historical fiction has long been a passion with Brenda B. Taylor. Since elementary school, she has written stories in her spare time. Brenda earned three degrees: a BSE from Henderson State University, Arkadelphia, Arkansas; a MEd from Sam Houston State University, Huntsville, Texas; and an EdD from Texas A&M University, College Station, Texas; then worked as a teacher and administrator in the Texas Public School system. Only after retirement could she fulfill the dream of publication.
Brenda and her husband make their home in beautiful East Texas where they enjoy spending time with family and friends, traveling, and working in Bethabara Faith Ministry, Inc. She crafts stories about the extraordinary lives of ordinary people in her favorite place overlooking bird feeders, bird houses, and a variety of blooming trees and flowers. She sincerely thanks all who purchase and read her books. Her desire is that the message in each book will touch the heart of the reader as it did hers in the writing.
Her latest book is the historical romance,
A Highland Ruby
.
MY THOUGHTS
There's nothing better than a wonderful love story. Every romance has its' bad times and its' good times. Flora has a hard time trusting Gavin since he hurt her deeply before. Flora was a talented woman and strong. Gavin was also strong which made their relationship very difficult. Far from perfect, these two people you can relate to as the story evolves. It took a strong woman back then since things were very hard. The weak didn't survive. Once you start reading you can't let go since the author gives you a lot to want to know. The twists and turns are like a web and as you turn the pages you want to untangle it. The author lets you get to know the characters as the descriptions are very vivid and the characters become like someone you know. As you read you get the feeling you are right along side each one. The history of Scotland comes through as the author certainly did her research. The author put the story out in a way that it was interesting to find out things about Scotland and the time period. It didn't drag you down with too many facts, just enough to keep you interested. Things weren't easy for anyone but they persevered. The love story as it unfolds is breath taking. This was definitely a "LOVE" story, with a sweetness about it. Some of the characters carry forth from the first book, A Highland Pearl but even if you haven't read it, you can totally enjoy this second book. (I would suggest reading the first book, though. That way you get to know the characters and setting better)
I received a copy of this book from the author and PUYB and voluntarily decided to review it.
PARTICIPATING BLOGS:
Monday, February 6
Tuesday, February 7
Wednesday, February 8
********
Monday, February 13
Tuesday, February 14
********
Monday, February 20
Thursday, February 23
********
Monday, February 27
Tuesday, February 28