PUMP UP YOUR BOOK
IS PLEASED TO BRING YOU
A

BLOG TOUR
FOR

DEATH AT FIRST SIGHT
by
LENA GREGORY

November 2 – 9, 2016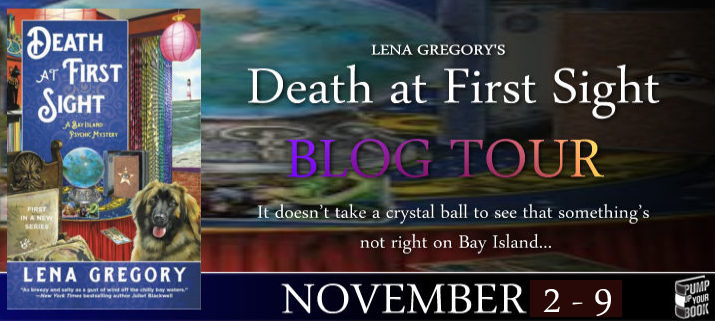 Inside the Book
Title: Death at First Sight
A Bay Island Psychic Mystery
Book One of Two
Author: Lena Gregory
Publisher: Berkley
Pages: 304
Genre: Cozy Mystery
It doesn't take a crystal ball to see that something's not right on Bay Island…
Since she left her psychiatric practice in New York City to open up a psychic shop in her hometown on Bay Island, Cass Donovan has given her fair share of readings to conflicted customers. But what she sees in Ellie Callahan's future doesn't bode well.
When Ellie's mother, Marge, publicly confronts Cass about the reading, the embarrassment makes her want to curl up and die. And when she later stumbles across Marge's body—and is a suspect in her murder—Cass is suddenly the star of Bay Island's rumor mill.
Cass is determined to prove her innocence and save Ellie from meeting the fate in her unfortunate vision. But even with the help of her friends Bee and Stephanie, Cass will have to channel some serious sleuthing instincts to find the real killer…
Meet the Author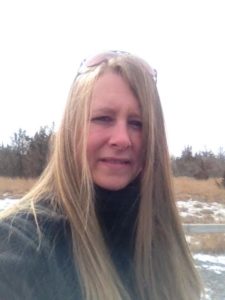 Lena Gregory lives in a small town on the south shore of eastern Long Island with her husband and three children.
When she was growing up, she spent many lazy afternoons on the beach, in the yard, anywhere she could find to curl up with a good book. She loves reading as much now as she did then, but she now enjoys the added pleasure of creating her own stories.
_______________________
MY THOUGHTS
This is the first book in the Bay Island Psychic Mystery series. If you are a believer or are just interested in the mystic and psychic then the author is giving you a chance to enjoy and venture into the craft.
Cass wasn't exactly welcomed with opened arms whens he went back to her home town of Bay Island. She was a psychiatrist and had closed down her practice, left her career and went home. When she got home she didn't open a psychiatric practice but a mystical shop. What a difference in careers. The town isn't so happy about this new shop.
Many on Bay Island have an interest in Mysticism and support her. Many don't. One day Cass has a resident, Ellie, who wants to have a reading so Cass does it. What she sees, she doesn't like at all.
I found it easy to relate to Cass. She's just a plain good person and you can't help but like her. You don't have to believe in psychic or mystic abilities to enjoy this book. It's a cozy mystery and it's a good book to cuddle up with on a cool fall night. The author gives you a relateable main character and she has some great friends that are interested in the same things as Cass and her mystic abilities.
You can't help but get wrapped up in the murder mystery. It's on the rather light side. No blood and guts. You think you have the mystery solved and you turn the page and discover there are some new characters in the mix. There goes your investigative skills. Even in real life, suspects can come from anywhere, family, friends, the hunk down the street, just anyone. Cass can't believe she's gotten herself in this mess but throws danger to the wind and tries to clear herself. She knows she's in deep danger but off she goes. Rather reckless in a way but most of us would do the same thing. This cozy mystery is a little different than your usual. Has a little more meat to it. Whenever I finish a book and end up wanting to turn the page for more and there is no more, then I'm waiting for the next book. Hope it comes soon.
I received a complimentary copy of this book from the author, Lena Gregory and PUYB and voluntarily decided to review it.
I would give this book 5 STARS.
_______________________