PUMP UP YOUR BOOK
VIRTUAL BOOK TOURS
PROUDLY PRESENTS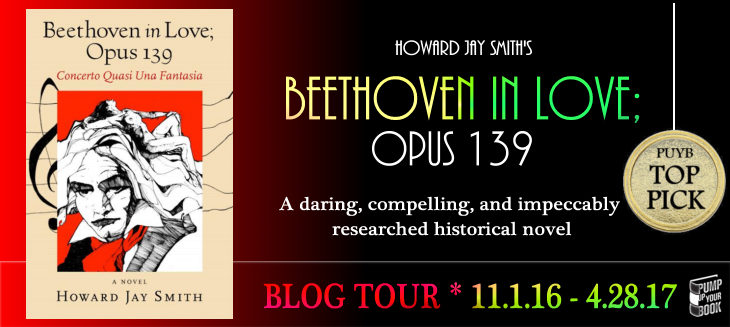 November 1 – April 28, 2016


Inside the Book
Title: BEETHOVEN IN LOVE; OPUS 139
Author: Howard Jay Smith
Publisher: SYQ
Pages: 385
Genre: Literary Fiction/Biographical Fiction
At the moment of his death, Ludwig van Beethoven pleads with Providence to grant him a final wish—one day, just a single day of pure joy. But first he must confront the many failings in his life, so the great composer and exceedingly complex man begins an odyssey into the netherworld of his past life led by a spirit guide who certainly
seems
to be Napoleon, who died six years before. This ghost of the former emperor, whom the historical Beethoven both revered and despised, struggles to compel the composer to confront the ugliness as well as the beauty and accomplishments of his past.
As Beethoven ultimately faces the realities of his just-ended life, we encounter the women who loved and inspired him. In their own voices, we discover
their
Beethoven—a lover with whom they savor the profound beauty and passion of his creations. And it's in the arms of his beloveds that he comes to terms with the meaning of his life and experiences the moment of true joy he has always sought.
Purchase Information:
Meet the Author

Howard Jay Smith is an award-winning writer from Santa Barbara, California. BEETHOVEN IN LOVE; OPUS 139 is his third book. A former Washington, D.C. Commission for the Arts Fellow, & Bread Loaf Writers Conference Scholar, he taught for many years in the UCLA Extension Writers' Program and has lectured nationally. His short stories, articles and photographs have appeared in the Washington Post, Horizon Magazine, the Journal of the Writers Guild of America, the Ojai Quarterly, and numerous literary and trade publications. While an executive at ABC Television, Embassy TV, and Academy Home Entertainment, he worked on numerous film, television, radio, and commercial projects. He serves on the Board of Directors of the Santa Barbara Symphony – "The Best Small City Symphony in America" – and is a member of the American Beethoven Society.
MY THOUGHTS
There aren't a lot of times that we get a book to read where the author let's the reader get a good look at the heart and soul of a genius. We all know some of this amazing person, Ludwig Van Beethoven, but we haven't had the inside look at what life has dealt him and his trials and struggles. We all have those demons that haunt us, but we don't stop and think that someone as brilliant as Beethoven would have them too. The author not only shows us the man but how this man saw the world around him. I never knew that Beethoven had love in his life. Beethoven was a complicated man and took his music to a level few will ever achieve, if any ever do. This book is an absolute masterpiece. Everyone should sit down and seriously read this book. It doesn't matter is you're a lover of music, romance, history, the man himself, it's a good novel and it shouldn't be by-passed. The pace is steady so you have time to take it all in. Remember, you're seeing things about a musical master that you may never have know. Everyone, genius or not, must come to grips of what our life is, what it means and where it's going.
I received a complimentary copy of this book from the author, Howard Jay Smith and PUYB Virtual Book Tours and voluntarily decided to review it.
I would give this book 5 STARS.
GOODREADS REVIEW
AMAZON REVIEW
Tour Schedule
********
*******
********
********
********
********
********
Wednesday, January 4 – OPEN
********
Tuesday, January 10 – OPEN
********
Wednesday, January 18 – OPEN
*******
********
Wednesday, February 8 – OPEN
********
Monday, February 13 – OPEN
Tuesday, February 14 – OPEN
********
Monday, February 20 – OPEN
Tuesday, February 21 – OPEN
Wednesday, February 22 – OPEN
********
Monday, February 27 – OPEN
Tuesday, February 28 – OPEN
********
Monday, March 6 – OPEN
Tuesday, March 7 – OPEN
*******
Monday, March 13 – OPEN
Tuesday, March 14 – OPEN
********
Tuesday, March 21 – OPEN
Wednesday, March 22 – OPEN
********
Monday, March 27 – OPEN
Tuesday, March 28 – OPEN
*******
Monday, April 3 – OPEN
Tuesday, April 4 – OPEN
********
Monday, April 10 – OPEN
Tuesday, April 11 – OPEN
********
Tuesday, April 18 – OPEN
Wednesday, April 19 – OPEN
********
Monday, April 24 – OPEN
Tuesday, April 25 – OPEN