Women's Fiction/Inspirational/Historical Fiction Recognitions Review Campaign
RECOGNITIONS by Daniela I. Norris
Campaign brought to you by PUYB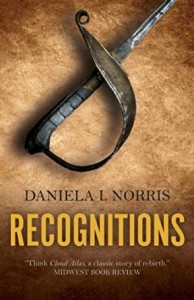 Title: RECOGNITIONS
Author: Daniela Norris
Publisher: Roundfire Books
Pages: 200
Genre: Women's Fiction/Inspirational/Historical Fiction
Amelia Rothman, a foreign-rights editor from New York, has a turbulent personal life. She juggles a divorce and two teenage kids, and decides to seek hypnotherapy to help her deal with insomnia and anxieties. But when during the session an unexpected event emerges, she tries to understand how it is relevant to her current life and why it suddenly triggers a series of synchronicities that take her on an unexpected personal journey to the depth of her subconscious. At once a spiritual and psychological novel, Recognitions explores the concepts of past lives, recognition of people and their roles in our present lives and life lessons.
"Think Cloud Atlas, a classic story of rebirth, many lives, and reincarnation on a level that involves protagonists in other lives – but take it a step further in Recognitions, the first novel in a trilogy, which presents a woman under hypnosis who sometimes encounters a French girl on the cusp of marriage and sometimes an African shaman facing a village's struggles with illness and slavery. Then take these diverse lives and weave them together in the story of a modern-day woman, Amelia (who must deal with these other lives and her own daily challenges, and who faces her own struggle to understand the connections and messages that lie in her dreams and hypnotic state), and you have an emotionally charged saga filled with three threads that lead back to one tapestry of wonder.
~ D. Donovan, senior reviewer, Midwest Book Review
Amazon Buy Link:
http://www.amazon.com/Recognitions-Daniela-I-Norris/dp/1785351974/ref=sr_1_2_twi_pap_1?ie=UTF8&qid=1464465345&sr=8-2&keywords=RECOGNITIONS
Biography

Daniela I. Norris is a former diplomat and political writer, turned inspirational author and speaker. She lived and worked in three continents and currently resides with her family near Geneva, Switzerland.

Her award-winning fiction and articles are published in magazines and anthologies and her recent books include Crossing Qalandiya (co-authored with Palestinian writer Shireen Anabtawi, Reportage Press, 2010), On Dragonfly Wings: a skeptic's journey to mediumship (Axis Mundi Books 2014) and Collecting Feathers: Tales from the Other Side (Soul Rocks Books, 2014). Her first novel, Recognitions, is now out (Roundfire Books, 2016).
REVIEW
Past lives of Adele, 17th century, and a Shaman, during slave times, present lives of Amelia, 3 lives that is). Adele was French and the Shaman, African. The author did a good job of entwining the past and present.Amelia is in New York and is a foreign rights book editor. Her marriage has not succeeded, it has failed terribly. She has the goods and bads of raising teenagers by herself as a single mother. That's a struggle in itself. She has anxiety and insomnia so she starts having hypnotherapy sessions to help her deal. I feel you have to connect with the characters in a book, at least some of them, in order to get an understanding as to what the author is presenting. The author gives you the characters, their lives and their connection to each other. Amelia could very well be your friend, your next door neighbor, a family member. It is possible. You don't have to be a believer in reincarnation to enjoy the book. The story doesn't bog the reader down, moving at a fairly fast pace. It's fascinating delving into past lives and how they mix with the other character's present lives. This is Book One, debut novel with two others coming in the near future. This should be quite a series. This book will definitely leave you wanting more at the end and more you will get with Book Two in the making. Have you ever felt there was a connection between you and someone else, either past or present? You may not know them but you get this feeling you know the person. I would highly recommend this book. Interesting!

I received this book, SUPPOSE, from the author, Daniela I. Norris and PUYB for my unbiased book review. No other compensation took place.

I would give this book 4 STARS.