PUMP UP YOUR BOOK
VIRTUAL BOOK TOURS
IS PROUD TO PRESENT
April 19-26, 2016
THE BLACK SHEEP SHADOW
by
Ashley Terrell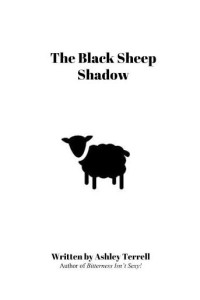 ABOUT THE BOOK
(from PUYB)
Title: The Black Sheep Shadow
Author: Ashley Terrell
Publisher: Ashley Terrell LLC
Pages: 136
Genre: Christian/Religious/Memoir
The city lights blind your amazement. The sound of the traffic challenges you to be alive. Families ask bystanders to make magic and capture the moment with photographs. Newly engaged couples seal their union by kissing under shooting stars while loving by crossing their hearts.
But what if your heart was under arrest, wouldn't want to embrace something to feel something like others?
Go inside the world of one courageous sheep as she discovers that her heart was under attack by darkness. As she travels on a spiritual journey to understanding her purpose, overcoming the understanding her purpose, self-acceptance, and the importance of inspiration, she rose against the odds with forgiveness and strengthening her faith.
For More Information
The Black Sheep Shadow is available to purchase at the author's website.
Meet the Author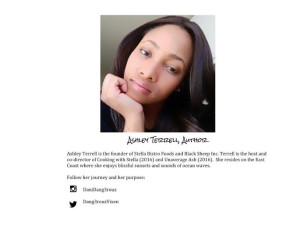 Ashley Terrell is the founder of Stella Bistro Foods and Black Sheep Inc. Terrell is the host and co-director of Cooking with Stella (2016) and Unaverage Ash (2016). She resides on the East Coast where she enjoys blissful sunsets and sounds of ocean waves.
For More Information
REVIEW:
The author Ashley Terrell gave her readers a very simple cover that says much. It immediately makes you wonder what it's all about. The story is the reader's story. Those readers who want to learn about themselves and who they are, what they want out of life. It's like finding yourself. We will never be entirely well if we don't admit there is something wrong. We all have those deep hurtful places in our hearts whether we want to admit it or not. Not admitting it is not healing. Not healing is staying hurt. Everyone has to be themselves and quit trying to keep up with the Jones'. Take what and who you are and go with it. BE YOU! Don't try to be someone or somebody you aren't. Take those Black Sheep in your past and present and put them to good work. You might just keep someone else from the denial that they are hurt inside. Everybody thinks they have to be strong and show no emotion. Keep it all hidden. That's where all the emotional hurt and pain come from. It's anger and hurt all pushed down inside, never letting it out. That would be weak, wouldn't it? Speak out and UP. Think positive and let those feelings out so they can heal. The author wrote of her great grandmother, Flossie. Through the writer's eyes you can almost picture Flossie. With the sharing of this, the author gives us the incentive to look back and remember the good times. The more good you think of, the less the hurt, hurts. A lot of people think they're have no flaws, they are perfect. Think about it. NO ONE IS PERFECT, NO ONE. Accept who you are and accept who other people are. Everybody has the black sheep in them, just in different ways, with different hurts. There is a light there for the darkness that you feel. It just has to be turned on. If you as the reader, have those Black Sheep hiding deep in the darkness of your heart and soul, release them. Let the light shine. If you let your light shine perhaps that will encourage someone else to let their Black Sheep out and shine their light. The author wrote a book that can help break the light out of the darkness and shine. First we have to try!
I received a complimentary copy of this book in from the author, Ashley Terrell and PUYB in exchange for my unbiased view. No other compensation took place.
I would give this book 5 STARS.
LINKS
AMAZON BUY PAGE
AMAZON REVIEW LINK