A LOVE STORY SPANNING DECADES – DEEPENED BY TRADITION, HERITAGE, LOSS, STRUGGLE, PERSEVERANCE AND LOYALTY.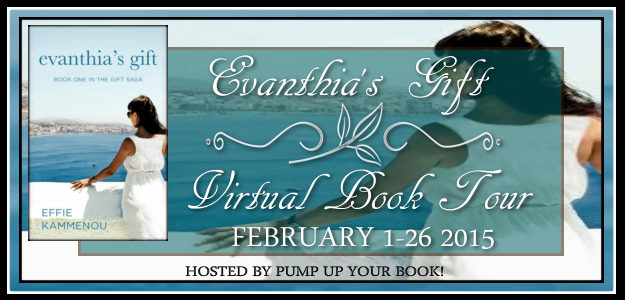 Effie Kammenou's EVANTHIA'S GIFT virtual book tour February 1-26!!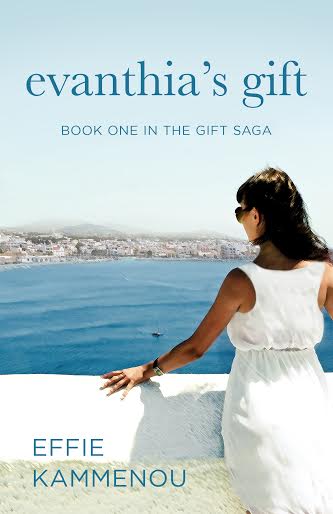 BOOK DETAILS
(from PUYB)
EVANTHIA'S GIFT
BOOK ONE
Gift Saga
Pages
: 548
Genre
: Women's Fiction/Contemporary Romance
In the year 1956, Anastacia Fotopoulos finds herself pregnant and betrayed, fleeing from a bad marriage. With the love and support of her dear friends Stavros and Soula Papadakis, Ana is able to face the challenges of single motherhood. Left with emotional wounds, she resists her growing affection for Alexandros Giannakos, an old acquaintance. But his persistence and unconditional love for Ana and her child is eventually rewarded and his love is returned. In a misguided, but well-intentioned effort to protect the ones they love, both Ana and Alex keep secrets – ones that could threaten the delicate balance of their family.
The story continues in the 1970's as Dean and Demi Papadakis, and Sophia Giannakos attempt to negotiate between two cultures. Now Greek-American teenagers, Sophia and Dean, who have shared a special connection since childhood, become lovers. Sophia is shattered when Dean rebels against the pressure his father places on him to uphold his Greek heritage and hides his feelings for her. When he pulls away from his family, culture and ultimately his love for her, Sophia is left with no choice but to find a life different from the one she'd hoped for.
EVANTHIA'S GIFT is a multigenerational love story spanning fifty years and crossing two continents, chronicling the lives that unify two families.
Evanthia's Gift is available at Amazon.
Pick up your copy at Barnes & Noble.
Discuss this book at PUYB Virtual Book Club at Goodreads.
AUTHOR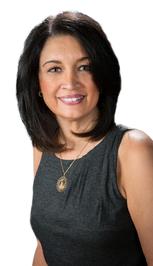 Effie Kammenou is a first generation Greek-American who lives on Long Island with her husband and two daughters. When she's not writing, or posting recipes on her food blog, cheffieskitchen.wordpress.com, you can find her cooking for her family and friends.
Her debut novel,
EVANTHIA'S GIFT
, is a women's fiction multigenerational love story and family saga, influenced by her Greek heritage, and the many real life accounts that have been passed down. She continues to pick her father's brain for stories of his family's life in Lesvos, Greece, and their journey to America. Her recent interview with him was published in a nationally circulated magazine.
As an avid cook and baker, a skill she learned from watching her Athenian mother, she incorporated traditional Greek family recipes throughout the book.
She holds a Bachelor's Degree in Theater Arts from Hofstra University.
For updates on the release of Book Two of The Gift Saga
Follow Effie on
Twitter @EffieKammenou,
www.facebook.com/EffieKammenou
.
Contact Effie at
effiekammenou@gmail.com
For More Information
REVIEW
Spanning 50 years, 2 families and two continents,the author gives you a little bit of everything, romance, love, betrayal, family, friendship, history, moral conflicts, joy, pain and such shocking revelations.The author has something for everyone that reads it. The characters are very well developed so that you can almost see them and know how they act. the reader will himself going through lots of emotions. Some of the characters will evoke more emotion than others. The book moves at rather a fast pace so you aren't bored. You will become one with the characters. It's as if you are beside them. This story is one in its own. Setting 1956. She has been lied to and her heart broken beyond repair. Her world is falling apart. This single mother, Anastacia Fotopoulos is facing this alone. After time, Anastacia is ready to be happy again and face life alone.
I suppose you are wondering by now what the title EVANTHIA'S GIFT refers to. Sorry but I can't tell you. That is for you to figure out. Does Anastacia find a new love? Can she learn to trust and love someone again?Alexandros could possibly be her answer. His past was not the best but he grew into a hard working and intelligent person.The author introduces the reader to some of the Greek culture and history. After you read for a while you start to envision the Greek way of life. A nice little feature is that at the end of each chapter are Greek food recipes. This was great of the author to give the recipe of what the character was cooking in the story. What a way to try new recipes and introduce yourself to Greek foods. It would have been nice if there was definitions of the Greek words in the back of the book. This is a book you will remember for a long time.
I received a complimentary copy of this book for my unbiased view. No other compensation took place.
I'd give this book 4 STARS.
LINKS
PUMP UP YOUR BOOK
AMAZON'S BUY PAGE
READ MORE AT
AMAZON REVIEW
GOODREADS REVIEW
———-
———-
- See more at: http://www.pumpupyourbook.com/2015/12/29/pump-up-your-book-presents-evanthias-gift-virtual-book-publicity-tour/#sthash.TFLmfN6G.dpuf