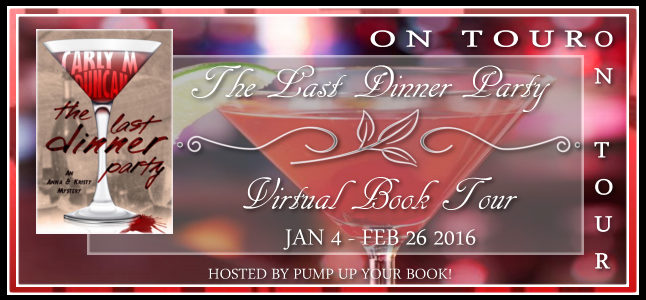 THE LAST DINNER PARTY
BLOG TOUR
An Anna & Kristy Mystery
Publisher: Createspace
Pages: 390
Genre: Mystery
ISBN-10: 1517636183
ISBN-13: 978-1517636180

Carly M. Duncan will be touring January 4 – February 26.
ABOUT THE BOOK
(from PUYB)
When Jeanie D'Alisa is found murdered in her bedroom after hosting a dinner party in her home, detectives Anna Cole and Kristy Hicks are called to investigate the crime. Known within her community for her generous, yet unpredictable nature, Jeanie's secrets unfold as family, friends and neighbors become suspects. Anna and Kristy discover stamped passport pages revealing travels unknown and a curious relationship between Jeanie and the charming salesman who frequents the apartment building. Meryl, Jeanie's devoted and needy friend, further complicates the investigation when she phones Jeanie's sister who is studying abroad and lies to her about the cause of death. Through a muddied pool of misdirection and betrayal, will Anna and Kristy be able to assemble the clues in order to bring Jeanie's killer to justice? The path to solving the mystery becomes tangled with faces of loved ones who are revealed to be foes in this story about the lengths people will go to in order to save themselves.
AUTHOR
(from book)
Carly M. Duncan is a television producer and writer. Working in television, she has prolifically created visual narratives for more than a decade for networks including TLC, Discovery Health, MTV, NatGeo, Travel Channel, FYI and more.

Her writing career officially began when one of her short stories, First Place, was published when she was a high school student in California. Her first two novels, Marcie and Behind You, are mysteries that touch on family bonds and the events that can strengthen or destroy them.

Her third novel, The Last Dinner Party, introduces a pair of female detectives who will return in future stories. In addition, she is a mentor and editor to other writers as well as an avid reader. Her favorite authors include Agatha Christie and Stephen King.

Carly lives in New York with her husband and two daughters.
MY VIEW OF THE BOOK
Anna Cole and Kristy Hicks are detectives who are beginning to work on the case of murdered Jeanie D'Alisa. She had just returned from a dinner party. Definitely her last dinner party. I think I would have liked Jeanie. She was quite unpredictable and yet a very generous person. The story heats up as friends, family and neighbors are turning into suspects. Along with that, Jeanie has had some secrets that are coming to light, one of which is she had a strange relationship with a salesman who came to the apartment building. The mystery of solving the murder is a tangled web of deceit and lies. Are her friends and family loving or are they caught up in the murder? It's amazing how far some people will go to protect themselves. I loved trying to figure out who 'dun' it. As you turn each page, new clues come to light and your idea of who 'dun' it changes. Don't forget the salesman. The detectives, Anna and Kristy keep your mind clicking as they try to solve the murder.
I would recommend this book to anyone that loves murder mysteries and detective stories. Don't let this one pass you by.
I was given a complimentary copy of THE LAST DINNER PARTY from the author, Carly M. Duncan and PUYB for my unbiased review.
I would give this book 5 DINNER PARTIES.

LINKS