Review Campaign
from
PUMP UP YOUR BOOK
FOR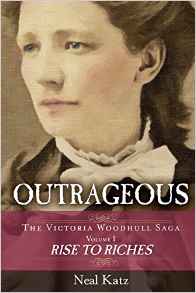 The Victoria Woodhull Saga
by
Neal Katz
BOOK DETAILS
(FROM AMAZON)
Publisher: Top Reads Publishing
Pages: 344
Genre: Historical Fiction
Historical fictionalized account of Victoria Woodhull's rise to presidential candidate and wealth, coming from poverty and abuse.
What compels a woman and her youngest sister to overcome abject poverty and violent abuse to grow up to defy convention and obliterate every barrier to become the first women to own and operate a Wall Street brokerage firm and publish their own newspaper?
How did Victoria Claflin Woodhull (1838 – 1927) become the first woman invited to speak to the United State Congress, and then the first female to run for president? What made Tennessee Celeste Claflin (1845 – 1923) so beguiling that the richest man in America, Cornelius Vanderbilt, fell completely in love with her?
What caused the sisters to live out their long lives as royalty and peerage in Europe, Victoria living as landed gentry outside of London, and Tennessee in a huge castle like a queen? Why aren't these empowered and independent women iconic in our culture?
Volume One of The Victoria Woodhull Saga tells the poignant, lascivious, and compelling inside story of how the sisters worked closely with Cornelius Vanderbilt, who at age 74 fell in love with the beguiling 24-year old Tennessee. Victoria provided the titan of industry "Inside Her Information" gathered through the soiled sisterhood, the ladies of the evening working at the top seven brothels servicing the rich and famous of New York City.
This relationship resulted in the great lion of industry having his last public roar as together they manipulated the financial markets and created the impending collapse of the U.S. economy in the gold scandal of 1869. To avert the crash, President Ulysses S. Grant provides the richest man in America insider information on the gold market and telegrams Vanderbilt that his railroad company is "Too Big To Fail!" Vanderbilt was proclaimed "The Savior of the American Economy" for intervening in a crisis he helped create.
View Victorian America through the eyes and thoughts of one of its leading heroines, Victoria Woodhull. Watch as the infighting and elitism of the earliest suffrage women degrading, castigating, and denouncing other passionate suffrage rights women delayed woman suffrage and equal legal standing for five decades. Learn wonderful anecdotes of the origins of products and phrases used today. Learn the story of Reverend Henry Ward Beecher, the most popular man in America, who transformed Christianity from his father's "fire and brimstone" theology to one of a compassionate and loving Jesus, who will redeem all who turn to salvation with complete confession of their sins. The reverend's personal life did not imitate his lofty and popular theology of his weekly sermons at Plymouth Church. He was a notorious womanizer, often bedding, and sometimes impregnating the wives, sisters, and daughters of his most ardent trackers and deacons of the church.
Written in the first person from Victoria's viewpoint, Neal Katz weaves a compelling page-turning story that cleverly unfolds history while providing a wonderfully entertaining ride. Katz has pledged one half of book sale proceeds to charities dedicating to the empowerment and sustainable economic improvement of women, especially single mothers.
AUTHOR
Neal Katz is a semi-retired, serial entrepreneur, CEO with a passion for women's rights. He lives a life based on self-awareness and Love. He practices Yoga, meditates daily, has taught A Course in Miracles, produced Oregon wines, enjoys being a gourmet chef, recites Vedic sutras, and writes his own inspirational poetry. The saga of Victoria Woodhull appeals to Neal, as it serves three purposes. First, the story provokes public awareness of the historical and continuing denigration and subjugation of gender prejudice. Second, the tale exposes the historical basis for the manipulation of the free markets of stocks, bonds and commodities. Third, the story shows how existing financial and political power structures used prison and seizure of assets to prevent innovation and social change. Victoria Woodhull overcame all these obstacles in a remarkable life.
Neal chose to write in first person using Victoria s words, thoughts, and point of view to tell the tale, inviting the reader to see through her eyes. The style is magical realism along the lines of Allende, Marquez, and Kathleen McGowan (The Magdalene Trilogy). This is an expression of the HeForShe solidarity movement for gender equality championed by Emma Watson, and Neal proudly proclaims himself a male feminist!
Prior to becoming an author, Neal formed and managed several businesses, specializing in finance, operations, marketing, and exit strategies. His work spanned advising and working for newly formed start-up, initial public offering, and Fortune 100 companies. Once a licensed securities broker, Mr. Katz is familiar with the financial markets from an insider s perspective. Neal has conceived and defined a new financial paradigm create jobs while providing continuous and renewable funding for many charitable endeavors, such as micro-finance, low income housing, vocational training, and infrastructure renewal.
Neal has pledged fifty percent (50%) of his author's royalties from book sales and ancillary revenues, including foreign print distribution and Hollywood rights to a foundation formed in tribute to Victoria Woodhull and her passion for woman rights. The foundation will promote and prove programs for the empowerment and sustainable economic improvement of women, especially single mothers.
REVIEW
This is a story of a woman who should have been born in another time. She was far ahead of others. She was perhaps one of the first feminists that fought hard and let their voices ring out. It wasn't easy by far. Back then women had their place and it wasn't the forefront. It wasn't fighting for equal rights, it wasn't politics. Women were to be seen and not heard. Unless you do some research, you wouldn't know about the women and their place in society. It wasn't well publicized. The author did a wonderful job of describing Victoria's life. Victoria was a strong woman who didn't let anything get in her way. She fought hard for what she believed in. The author did a marvelous job of telling the story through the voice of Victoria. It makes the reader feel as though they are part off the feminist movement, part of Victoria's life. How many of us know that Victoria Woodhull was the first woman to run for office? Her running mate: an intelligent black man named Frederick Douglas. Now this was quite a combination. Did they lock heads? Victoria was passing all the road blocks like they weren't there. Herself and her sister held a seat on the stock exchange. Imagine that, the first woman owned seat. What a woman! Of course, this didn't go by without a fuss from others, especially men. The book is captivating and so enlightening. You, the reader, can envision this strong women fighting against all odds to bring about women's rights. The challenges she met and overcame. Back in that time, people felt threatened when facing new ideas and ways. This should be a must read for all junior high and high schoolers. Mr. Katz must have put many hours into research. The book is not only interesting but it is educational. It is well written with great character development. The author takes women and children of that era and raises them up. He ignores society's attitude toward them. This book is a master piece that should be read and re-read many times. So many things we don't know. It's good there are people like Mr. Katz to enlighten us. Waiting for Volume II of t he Victoria Woodhull Saga.
I received a complimentary copy of OUTRAGEOUS from the author, Neal Katz and Pump Up Your Book Review Campaigns for my unbiased review. No other compensation took place.
I would give this book a Solid 5 STARS.
LINKS