MEDITATION IS AN OPEN SKY
Whitney Stewart will be touring April 6 – 30 with her children's picture book,
MEDITATION IS AN OPEN SKY: MINDFULNESS FOR KIDS!
You know those days when you feel
SAD, MAD, and SCARED

all at the same time
and you don't know what to do?
(from back of book)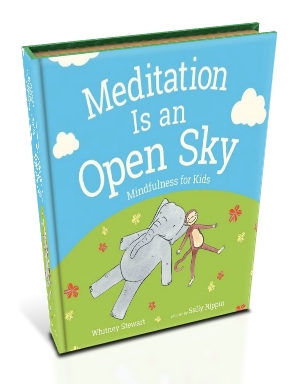 Title
: Meditation is an Open Sky: Mindfulness for Kids
Author
: Whitney Stewart
Publisher
: Albert Whitman
Pages
: 32
Genre
: Children's Picture Book
Format
: Hardcover/Kindle
Feeling mindful is feeling good! You know when you're having a bad day, you have that wobbly feeling inside and nothing seems to go right? Find a quiet place, sit down, and meditate! In this daily companion, kids of any age will learn simple exercises to help manage stress and emotions, find focus, and face challenges. They'll discover how to feel safe when scared, relax when anxious, spread kindness, and calm anger when frustrated. Simple, secular, and mainstream, this mindfulness book is an excellent tool for helping kids deal with the stresses of everyday life.
AUTHOR
- Whitney Stewart
Whitney Stewart grew up in New England and graduated from Brown University. She published her first award-winning, young adult biography after interviewing the 14th Dalai Lama of Tibet, the subject of two of her books. She trekked with Sir Edmund Hillary in the Everest region of Nepal; interviewed Nobel Peace Prize winner Aung San Suu Kyi in Rangoon, Burma; and traveled extensively in Asia to research the lives of Deng Xiaoping, Mao Zedong, and Siddhartha Gautama, the Buddha. She is the author of three middle-grade novels and multiple middle-grade nonfiction books, including an unknown tale of Abraham Lincoln and artist Francis Bicknell Carpenter. Her newest picture books include
A Catfish Tale
, a bayou retelling of the Grimm brothers'
Fisherman and his Wife
, and
Meditation is an Open Sky: Mindfulness for Kids
.
ILLUSTRATOR:
Sally Rippin
Sally Rippin has written and illustrated more than fifty children's books in Australia, including the Billie B. Brown series and the novel Chenxi and the Foreigner. Sally lives in Melbourne, Australia where she has been inspired by this book to try meditation daily (even though her family might claim she's actually dozing).
Product Details
REVIEW
Whenever you feel mindful, you feel good. The author wrote a wonderful little teaching book about what children can do when they are feeling bad and upset. We all have those days that you just feel icky inside and everything you try to do, goes wrong. We all go through it. But a child may not know what to do. This little book with it's wonderful illustrations helps little ones and older ones think about what is wrong and how to fix it. The best thing to do is find a quiet place and sit down and meditate. Just think quietly on whatever it is that seems wrong. The book will help with dealing with stress and those emotions that get the best of us, sometimes. The author wrote a book that will help with feeling safe when you're scared, relax when you're anxious, be aware of new ways to spread kindness, when frustrated, calm your anger and so much more.
The book was written by a talented author of children's books and she is also a meditation teacher. It doesn't matter what age you are, this little book is a good daily companion for those tough icky moments.
I was given a complimentary copy of MEDITATION IS AN OPEN SKY - Mindfulness for Kids from the author, Whitney Stewart and Pump Up Your Book Virtual Book Tours for my view of the book.
I would give this book 5 MONKEYS.





LINKS