PUMP UP YOUR BOOK
IS
PLEASED TO
PRESENT
a
VIRTUAL BOOK TOUR
November 3-28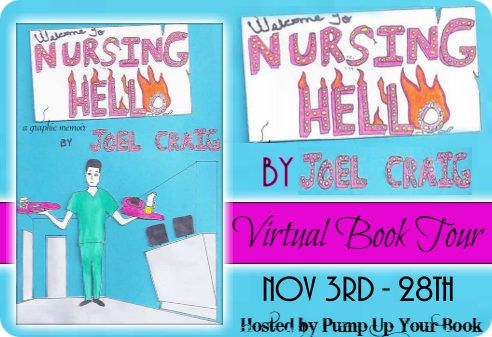 Title: Welcome to Nursing HELLo: A Graphic Memoir
Author: Joel Craig
Publisher: Joel Craig
Pages: 190
Genre: Graphic Memoir/Nonfiction
Format: Paperback
A MUST HAVE FOR ANY NURSING STUDENT!
This nurse is not out to save the world. He's too busy dodging bed pans and urine containers.
What happens when all the jobs for movie star have been filled. The next best thing is to become a registered nurse and that is exactly what Joel Craig did. Here is Joel's journey through the pitfalls, quicksand, and joy(s) of his profession told in a graphic memoir format. The book begins in the year 2007 with Joel's story unfolding in chronological order.
Such topics are discussed: dirty needle sticks, intimidating preceptors, job stress, and cursing on the job. Joel has imaginary conversations with rockstar Madonna, who is preparing to play Nurse Ratched on Broadway, who gives him advice along the way. Nursing students and new nurses can learn from Joel's mistakes and what
NOT
to do as well as what to do. But they will get a little peek into what it's like being a new nurse. This is almost like a small shock absorber to make the transition to new nurse not so bumpy. Also actors, writers and any creative person who appreciate the struggles of an artist in a world where art and commerce are seldom friends, will appreciate this book.
Paperback:

198 pages

Publisher:

CreateSpaceIndependent Publish Platform (October 17, 2013)

Language:

English

ISBN-10:

1493716573

ISBN-13:

978-1493716579
For More Information
Welcome to Nursing HELLO: A Graphic Memoir is available at Amazon
Discuss this book at PUYB Virtual Book Club at GOODREADS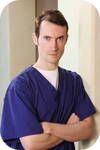 JOEL CRAIG is a nurse who works at a busy hospital in Los Angeles and lives with his husband, Donovan. They have been married twice with the second time finally being legal. In addition to writing about nursing, Joel is also an actor, having appeared inn the films, SIDESHOW and SORDID LIVES. Currently he is acting in the web series, WHAT'S MY INTENTION? He's working on his next graphic novel, VAMPIRE NURSE IN HOLLYWOOD. His latest book is the graphic memoir/nonfiction, WELCOME TO NURSING HELLo: A graphic memoir.
For More Information
Visit Joel Craig's
website
http://www.welcometonursinghello.com/
Connect with Joel on https://www.facebook.com/Welcometonursinghello
Connect with Joel on Twitter
https://twitter.com/NursingHello
REVIEW
Most people who are creative have had their struggles. They struggle with finding outlets for their expressions. Sometimes they don't even pay enough to earn a living. They usually have to work at another job to help pay the bills. Mr. Craig is one of those people. This book is his travels from being a struggling actor to going into the nursing profession and the struggles during the first few years.The author wrote an entertaining and interesting story. The illustrations are very simple but do not diminish the enjoyment of the stories the author told. They bring out the journey of the struggling actor turned nurse who then begins drawing and finds an outlet, which is creative while working as a nurse. I've had quite a bit of experience, not as a nurse or doctor, but as a caregiver to family members and this book was very entertaining and touched the heart.The reader can take away a wonderful appreciation of what nurses do and have to go through.
I was provided a complimentary copy of WELCOME TO NURSING HELLO from the author, Joel Craig and Pump Up Your Book for my view of the book. No other compensation took place.
I would give this book 4 STARS.
GIVEAWAY
Joel is giving away one paperback copy of WELCOME TO NURSING HELLO, pen, magnet and $25 Amazon Gift Card!
Terms & Conditions:
By entering the giveaway, you are confirming you are at least 18 years old.
One winner will be chosen via Rafflecopter.
This giveaway begins November 3 and ends November 29.
Winner will be contacted via email on Monday, December 1.
Winner has 48 hours to reply.
Good luck everyone!
ENTER TO WIN!
Monday, November 17
Wednesday, November 19
Monday, November 24
Tuesday, November 25
Wednesday, November 26
Friday, November 28