"Move over, Walt Longmire. There's a new sheriff in town."
DEATH AT THE BLACK BULL
A Sheriff Virgil Dalton Mystery
by
Frank Hayes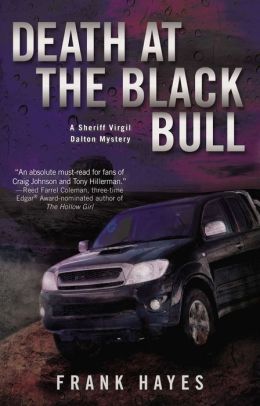 INTRO
Hayward is a sleepy Southwestern town full of cattle, trucks, and tumbleweeds. Virgil Dalton's been the sheriff for over a dozen years and has lived there all his life. It's a place where everybody pretty much knows everybody—but they don't know each other's secrets…

Buddy Hinton is just a good ole boy. So when he disappears after a night drinking at the Black Bull, his friends just figure he went down to Mexico to find himself a girlfriend and eventually will come back. But this case quickly becomes a homicide after the sheriff discovers the missing man floating in one of his stock tanks.

For a man who wasn't known to have enemies, Buddy clearly upset someone. Figuring out who that was will require Virgil and his deputy, Jimmy, to retrace Buddy's last steps—and to remain a step ahead of a murderer who may have no qualms about killing again …
Series: A Sheriff Virgil Dalton Mystery
Paperback: 320 pages
Publisher: Berkley Trade (October 7, 2014)
Language: English
ISBN-10: 0425274292
ISBN-13: 978-0425274293
REVIEW
Frank Hayes has caught us up with a perfect debut novel. Virgil Dalton is half Native American and is Sheriff to Hayward, he is a rancher and a lawyer. Any lady landing him might get it all.
Buddy Hinton disappears, the sheriff thinks the guy has just run off. Soon he finds out that big town trouble has come to little Hayward with the death of Buddy Hinton.
Black Bull is a local watering hold for all thee ranch hands for nearly 30 years. All the clues lead there. His small band of deputies and his ranch manager, Cesar and his grandfather who lives his life on the reservation. Virgil begins to uncover more secrets and starts to put the puzzle together. I love books like these so once I started reading I was hooked. Mr. Hayes tells wonderful stories. He writes with very descriptive detail. He makes the story alive as though you are right there going along with the sheriff and his crew. As you finish the book, you wonder if this is Mr. Hayes first novel. He is definitely an author to reckon with.
I was given a complimentary copy of DEATH AT BLACK BULL from the author Frank Hayes and Night Owl Reviews for my view of the book. No other compensation took place.
I would give this book 5 STARS.
LINKS
www.nightowlreviews.com
http://www.barnesandnoble.com/reviews/Death-at-the-Black-Bull%2FFrank-Hayes/1118739091?ean=9780425274293
http://www.shelfari.com/books/37712695/Death-at-the-Black-Bull-%28A-Sheriff-Virgil-Dalton-Myster%29/readers-reviews
http://www.amazon.com/review/R25OP081F9VSMD/ref=cm_cr_pr_perm?ie=UTF8&ASIN=0425274292