SPELLS (Science Fiction)
by
Gary L. Morton
OVERVIEW:
(from Amazon)
(83,500 words) The Spells is a sci-fi action novel. Detective Jack Michaels, accompanied by a fashion model, hunts for a missing teen girl in a case that explodes to mayhem, mutant gangsters and a freak doctor's mad plan for immortality.
File Size: 680 KB
Print Length: 218 pages
Simultaneous Device Usage: Unlimited
Sold by: Amazon Digital Services, Inc.
Language: English
ASIN: B00N3D7N6K
AUTHOR:
Gary L Morton Toronto horror, sci-fi writer.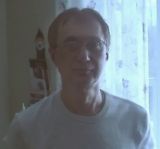 I live in downtown Toronto.
At present, I have seven novels and five collections available online. They are horror and science fiction. Some of the books are also mystery and crime related as characters include a psychic detective in my vampire novel, and a future detective in some science fiction novelettes and novels.
You've been invited to a fancy ball but the only thing you have to wear is an orange wooly jumper. What shoes do you wear? BLACK
REVIEW:
Sci Fi is not exactly my forte but this was a little different than then ordinary Sci Fi. This had the added punch of a thriller. I found as I turned the pages, there was never a moment of boredom. The book was well written and the descriptions were very good. I found the Chapter names quite fascinating. The Cabby, Cupid's Grotto, The Underground, Exiled and more. As I read the book it became more of a detective instead of Sci Fi book to me. That made me enjoy it more. I believe the author used a lot of creative thought in this book. I would suggest anyone who likes sci fi, detective stories will like this book. Check out Mr. Morton's blog for more books that he's written.
I received a complimentary copy of THE SPELLS, Science Fiction from the the author, Gary L. Morton and Bostick Communications for this honest view of this book. No other compensation took place.
I would give this book 4 STARS.
LINKS
Website:
http://frightlibrary.org
Blog:
http://garymorton.blogspot.com/
https://www.goodreads.com/review/show/1080094973
http://www.amazon.com/review/R9S42ZT4OJ656/ref=cm_cr_rdp_perm?ie=UTF8&ASIN=B00N3D7N6K