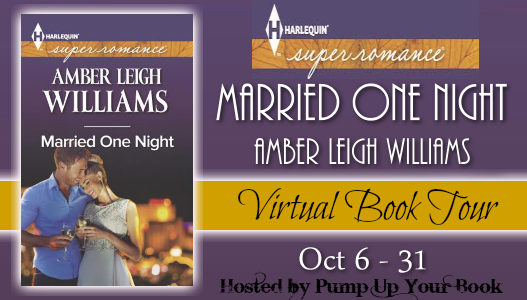 PUMP UP YOUR BOOK
PROUDLY
PRESENTS
Oct. 6-31
MARRIED ONE NIGHT
by
Amber Leigh Williams
Amber Leigh Williams will be touring October 6 – 31 with her humorous nonfiction, Married One Night!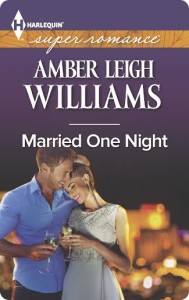 What happened in Vegas…followed her home!
Olivia Lewis is not the marrying type. So when a wild weekend in Vegas leaves her with a surprise husband, she's happy to sign anything to erase her mistake—even if that mistake is handsome, charming and comes with an English accent. Fortunately, her groom has other plans.
Bestselling author Gerald Leighton knows he can make his new bride fall in love with him—he just needs time. In exchange for a quickie divorce, Olivia grudgingly gives him a few weeks to attempt to woo her. And whether Olivia likes it or not, Gerald plans on using every second to win her heart!
Series: Harlequin Superromance (Book 1954)
Mass Market Paperback: 384 pages
Publisher: Harlequin; Large Print edition (October 7, 2014)
Language: English
ISBN-10: 0373608780
ISBN-13: 978-0373608782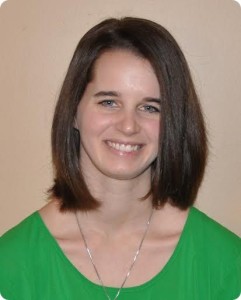 Amber Leigh Williams lives on the Gulf Coast. A southern girl at heart, she loves beach days, the smell of real books, relaxing at her family's lakehouse, and spending time with her husband, Jacob, and their sweet, blue-eyed boy. When she's not running after her young son and three, large dogs, she can usually be found reading a good romance or cooking up a new dish in her kitchen. She is represented by Joyce Holland of the D4EO Literary Agency.
Her latest book is the contemporary romance,
Married One Night
.
For More Information
REVIEW:
Who hasn't heard "what happens in Vegas stays in Vegas?" Most every, I would say. Well, that doesn't apply in this case. Author Gerald Leighton got married to Olivia Lewis in Vegas and doesn't remember much about it. That could be because they were drunk. She remember bits and pieces of the Bellagio honeymoon suite. The funny thing is, she's allergic to marriage. I thought that was an amusing thing for the author to put in the book. Is there such a thing,? The next morning, bra in purse, she left and left fast. She thought she would not see Gerald again but who shows up at the bar the next day? Gerald. What was he doing there? Looking for his wife! To get rid of him, she makes a deal with him. She gives him three weeks to prove that she loves him, as much as he loves her. To add to her problems, Gerald's brother shows up. The Earl, no less, has a little chat with Olivia sharing some secrets about Gerald. This book was quite humorous. It's not your ordinary book about Earls and Dukes and their romantic escapades. The author put the humor in it and that totally changed the book. It's nice to occasionally have a romance where the couple is already married but trying to woo each other. Good read!
I was given a complimentary copy of MARRIED ONE NIGHT from the author, Amber Leigh Williams and PUMP UP YOUR BOOK PUBLICITY TOURS for my view of the book. No other compensation took place.
I would give this book 4 STARS.