DEADLY RUSE
A McClellan Mystery
by
E. Michael Helms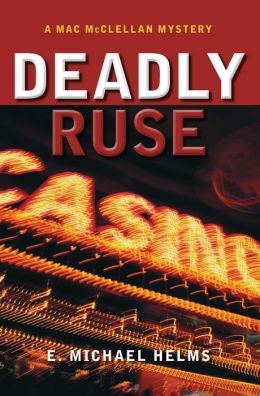 INTRO
(FROM BARNES AND NOBLE)
Mac's girlfriend, Kate Bell, thinks she's seen a ghost. Wes Harrison, Kate's former boyfriend, supposedly perished twelve years ago in a boating accident. But now she swears a man she spotted in a crowded theater lobby is Wes. Mac has his doubts—it was only a fleeting glimpse. But to calm her shattered nerves, he starts making inquiries.
A clue leads him from his home in St. George, Florida, to a Texas orphanage. There he uncovers startling information that turns both his and Kate's world upside-down. Diamond smuggling, sex, deceit, and murder are just part of the twisted tale that emerges from Kate's earlier life. Using wit, grit, and the ingrained military training of a former Marine, Mac starts to fit the pieces of this scrambled puzzle together.
Further clues point to the Palmetto Royale Casino and Resort near St. George. He and Kate discover that the casino is a front for big drug deals. When they barely escape a murder attempt, Mac knows he's on the right track.
But he better play his cards right–because losing this high-stakes game could cost him his life.
Product Details
ISBN-13:

9781616140090

Publisher:

Prometheus Books

Publication date:

11/11/2014

Pages:

250

Sales rank:

558,605
AUTHOR
E. Michael Helms is a USMC combat veteran.He
is the author of Deadly Catch, the first Mac McClellan mystery.His memoir of the Vietnam War, The Proud
Bastards, has been called "As powerful and compelling a battlefield memoir as any ever written . . . a modern military classic," and has been in print for over 20 years.

His work has also appeared in the books: Semper Fi: Stories of U.S. Marines from Boot Camp to Battle (Thunder's Mouth Press, 2003); Soldier's Heart: Survivors' Views of Combat Trauma (The Sidran Press, 1995); and Two Score and Ten: The Third Marine Division History (Turner Publishing, 1992).

Book One of his two-part saga of the Civil War, Of Blood and Brothers, was released in September 2013, with Book Two following in March 2014. The first of his Mac McClellan Mysteries, Deadly Catch, was published in November 2013. Deadly Ruse, the second in the series, is scheduled for release November 2014. The Private War of Corporal Henson, a semi-autobiographical fictional sequel to his memoir, The Proud Bastards, is due out June 2014.

Helms lives with his wife in the foothills of the Blue Ridge Mountains in the Upstate region of South Carolina, where they enjoy canoeing, hiking and bird watching.

More information about his writing/books, and how he can be contacted, is available at his website:
http://www.emichaelhelms.com
REVIEW
Kate Bell's former boyfriend, Wes Harrison apparently supposedly perished twelve years ago. It was a boating accident. Now, Mac's girlfriend, Kate thinks she's seen a man at a theatre lobby is Wes. Now Mac has his doubts. He barely saw him and wasn't for sure. But Kate is stressed out about this so Mack thought he would make inquiries to see what is going on and to ease her stress.He went from his home in St. George, Florida to a Texas orphanage on a clue. Kate and Mac's world's were turned upside-down. The story becomes a web of deceit, murder, sex, diamond smuggling are just a part. This all comes from Kate's earlier years. Mac used all the skills of being a former Marine, he started to fit the mixed up pieces together, just like a jig saw. A place stands out. Palmetto Royal Casino and Resort that were near St. George. Well the casino was a front for drug deals. Mac knows right away that he's on the right track when the barely escape their lives. How good is Mac at playing cards? Losing this high stakes game could mean his life and Kate's. The author wrote a wonderfully paced mystery that is filled with all the deceitful things a reader can find good when reading a book. A story that will keep your attention and hold you on the edge of your seat. Is Wes Harrison dead or is he involved in the drug operations? This was a great-high stakes mystery for any mystery, suspense lover. I found I couldn't put the book down.
I was given a complimentary copy of DEADLY RUSE from the author, E. Michael Helms and Night Owl Reviews for my view of the book. No other compensation took place.
I would give this book 5 STARS.
LINKS
http://bemiown.blogspot.com
www.nightowlreviews.com
http://www.emichaelhelms.com