5 STARS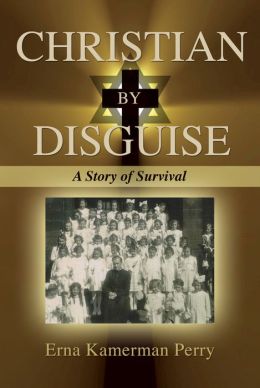 Overview (from Barnes and Noble)
For nearly all of the sixty-odd years since the end of World War II, I hardly mentioned the Holocaust or my experiences in it.

And yet, this period covered the first ten years of my life and has had a dramatic and traumatic effect on me. Life kept me busy and I buried the memory of that time fairly deep. My mother, my uncle, friends and acquaintances familiar with my past—or those who shared in it—occasionally would remark on an episode. For the most part, however, we were mute on the subject. Neither my husband nor my children knew much about it, just a single event mentioned in passing and made to sound irrelevant.

But years have passed and those who have experienced the Holocaust are disappearing. Death is no longer something far on the horizon but a frequent visitor to many around me. And so, it seems that I must take the chance of telling my story, a story that was a part of the horror my people experienced.

I have no illusions that another thread in the weave of the narratives about the Holocaust will make any difference: the deniers of it will keep denying, the haters will keep hating, genocides will keep occurring. I only want my children, my (few) relatives, my friends, and those readers interested in the historical horrors of the twentieth century to know that once there was a little girl who, through no fault of her own, had to lie and pretend so she could live to see another day.
Product Details
ISBN-13:

9781935232810,

Publisher:

ComteQ Communications, LLC

Publication date:

2/1/2014,

Sold by:

Barnes & Noble

Format:

eBook,

Pages:

122,

Sales rank:

1,203,905,

File size:

3 MB
About the Author
My life in the United States was much less dramatic than my past life had been. We were sent to Detroit, at that time a lively metropolis, where I graduated from Central High School, an overwhelmingly Jewish school. I received a scholarship to Wayne State University where I majored in Romance languages, ultimately receiving a Master's Degree (I started work on a Ph.D, but the birth of my two children interfered in this endeavor).
In Freshman English I met my future husband who eventually became a professor of sociology and political science. His position took us to Cleveland, Ohio, where I taught part time and where the two of us began writing college textbooks used in the Social Sciences we have produced thirteen editions of one book, and a number of other texts with shorter lives. We have been extremely lucky in that our children have become productive people who have given us three wonderful grandchildren. To date, our health has allowed us to lead active lives in very pleasant surroundings. But the memories of my childhood would not be still.
REVIEW
The book is a story of the author as she was a Jewish child in Poland. This was at the beginning of WWII. This is what her mother and her did to survive. Jewish children under the age of ten were of no use to the Germans. Whenever a child was seen, they were killed, so there weren't too many children that came through. The way most of the Jewish children survived was being falsely Christians. Erna and her mother looked like Poles. Erna was extremely intelligent and had memorized most of the Catholic prayers so when she was confronted, she could say them without any problem. Her mother and herself were saved by the fact that Erna could pull off being Christian. They never gave up. They used their courage to survive along with pure luck. There were times that Erna and her mother came close to going to the Death camps. If you like autobiographies and historical reads, this book can not be passed by. A story of courage, survival and tragedy. Even though the reader knows of the mass killings, it's hard to read about. People who had jobs to do and did them regardless of right or wrong. That is so sad, though true. The author tells her story since so many people from the Holocaust that survived are now getting up there in age and have left this world for a better one. I'm sure the author experienced some of the pain all over again by writing this book, but thanks to the author. A lot of the people today either look the other way or just plain ignore the fact that the Holocaust ever happened. What some people had to go through just to survive. Those that went to the Death camps were destined to die by the masses. This is a story we need to read and then reflect on how horrible this time in history was. Maybe this book will wake some people up and enlighten others.
I was given a complimentary copy of CHRISTIAN BY DISGUISE from the author, Erna Kamerman Perry for my view of the book. No other compensation took place.
I would give this book 5 STARS.
LINKS
http://bemiown.blogspot.com
bemiown@yahoo.com
www.ComteQpublishing.com
http://www.barnesandnoble.com/reviews/Christian-by-Disguise%2FErna-Kamerman-Perry/1119293999?rating=4#reviews-controls-1
https://www.goodreads.com/review/show/1062633677
http://www.amazon.com/review/R232QNWUZGBKJP/ref=cm_cr_pr_perm?ie=UTF8&ASIN=1935232789