SHOVEL READY
by
Adam Sternbergh
Jacket Design: Will Staehle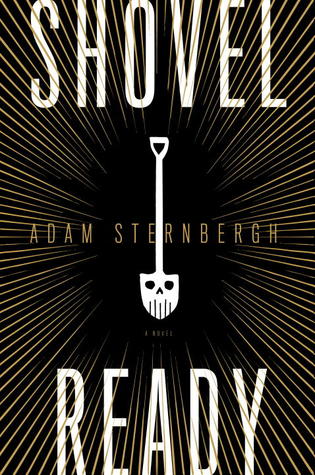 SUMMARY (from Goodreads)
An addictive genre-blend of a thriller: the immersive sci-fi of Ernest Cline; the hard-boiled rhythms of Don Winslow; the fearless bravado of Chuck Palahniuk; and the classic noir of James M. Cain

Spademan used to be a garbage man. That was before the dirty bomb hit Times Square, before his wife was killed, and before the city became a bombed-out shell of its former self. Now he's a hitman.

In a New York City split between those who are wealthy enough to "tap into" a sophisticated virtual reality for months at a time and those left to fend for themselves in the ravaged streets, Spademan chose the streets. His clients like that he doesn't ask questions, that he works quickly, and that he's handy with a box cutter. He finds that killing people for money is not that different from collecting trash, and the pay is better. His latest client hires him to kill the daughter of a powerful evangelist. Finding her is easy, but the job quickly gets complicated: his mark has a shocking secret and his client has an agenda far beyond a simple kill. Now Spademan must navigate the dual levels of his world-the gritty reality and the slick fantasy-to finish the job, to keep his conscience clean, and to stay alive.

Adam Sternbergh has written a dynamite debut: gritty, violent, funny, riveting, tender, and brilliant.
Published January 14th 2014 by Crown (first published January 1st 2014)
ISBN 0385348991
(ISBN13:

9780385348997

)
This is one of those books that you will either love or not. I was one of the love the book. The author wrote the speech in a precise way that it sounded natural. I've read a lot of fiction books and the characters usually sound phony, not real. They spoke like everyday people. The conversations didn't feel made up but actual true conversations. The author also set the scenes so realistically. You can actually visualize the state of ruin of the city, the smells of the destroyed streets, it was like you were there, walking down this destroyed city and you can't believe this has happened. I felt the author didn't put enough in the story about the girl's (17) view on things. Everything, except the rape, was from a man's perspective. Does the female not have a voice except about something terrible that happened to her? Seems so. That was my main complaint about the book. As for the ending, I never saw that it was happening that way. It completely surprised me.
I would recommend this book to dystopian lovers and those who love the nitty gritty of a possible different world. But if you have a problem with women not getting their dues, then you may want to think about it. The cover is great, draws you in.
I was given a complimentary copy of SHOVEL READY from the author, Adam Sternbergh and Blogging For Books for my view of the book. No other compensation took place.
I would give this book a 3.5 - but I decided to overlook the lack of the female view and will give it 4 SHOVELS.
Adam Sternbergh is the culture editor of The New York Times Magazine. Formerly an editor-at-large for New York, his writing has appeared in GQ and the Times of London, and on This American Life. He lives in Brooklyn and is at work on a second Spademan novel.
LINKS
www.adamsterbergh.com
bemiown@yahoo.com
http://bemiown.blogspot.com
https://www.goodreads.com/review/show/1033828610
http://www.amazon.com/review/R3TTD97G3HA22S/ref=cm_cr_pr_perm?ie=UTF8&ASIN=0385348991
www.bloggingforbooks.org