Pump Up Your Book is pleased to bring you Mary Carter's Meet Me in Barcelona virtual book tour August 4 – October 31!
Mary will be giving away a 3 book set (My Sister's Voice, Three Months in Florence and Sunnyside Blues) at the end of her tour. All bloggers who host the book tour are eligible to enter and win.

The past is never far behind...
MEET ME IN BARCELONA
BY
MARY CARTER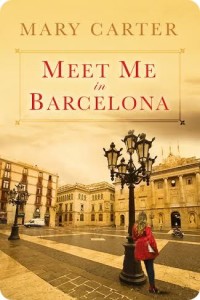 REVIEW:
Secrets are never really secrets. You can bury them, hide them,or share them with a friend they always show back up. Grace has had a real hard time. Her mother has been ill and goes into hospice. That's not all that has been bad for Grace. Big shot music producer, Marsh Everett gave Grace a bad review in Country Weekly.With everything that has been going on in her life, the trip for two to Spain that her boyfriend won would be a welcome get away. Then she found a message under her door that made Grace certain who was sending the messages or "clues".
When Grace was a child, her parents took in foster children. Carrie Ann was the same age as Grace when she came to live with them.. Grace always wanted a sister but Carrie Ann scared her. She wanted to be a magician when she grew up and always left clues behind. After 15 years trying to forget about her foster sis,and the clues kept popping up, Grace knew it had to be Carrie. Carrie never left quietly.
She seemed like she always had a reason and she was always followed by bad things.
Currently she is running from a bad relationship and hopes that Grace will be there to help her.
Author, Mary Carter grabs her readers from page one. You simply can't put the book down. The story was quite mysterious and hard to figure it out. The setting was so exotic. You could almost feel yourself being there. This book is an absolute grabber that everyone will want to read.
I was given a complimentary copy of MEET ME IN BARCELONA from the author, Mary Carter and Pump Up Your Book for my view of the book. No other compensation took place.
I would give this book 5 STARS.
Publisher: Kensington
Pages: 352
Genre: Mainstream Fiction
A surprise trip to Barcelona with her boyfriend, Jake, seems like the perfect antidote to Grace Sawyer's current woes. The city is dazzling and unpredictable, but the biggest surprise for Grace is discovering who arranged and paid for the vacation.
Carrie Ann wasn't just Grace's foster sister. Clever, pretty, and mercurial, she was her best friend—until everything went terribly wrong. Now, as she flees an abusive marriage, Carrie Ann has turned to the one person she hopes will come through for her. Despite her initial misgivings, Grace wants to help. But then Carrie Ann and Jake both go missing. Stunned and confused, Grace begins to realize how much of herself she's kept from Jake—and how much of Carrie Ann she never understood. Soon Grace is baited into following a trail of scant clues across Spain, determined to find the truth, even if she must revisit her troubled past to do it.
Mary Carter's intriguing novel delves into the complexities of childhood bonds, the corrosive weight of guilt and blame, and all the ways we try—and often fail—to truly know the ones we love.


Terms & Conditions:
Mary Carter is giving away 3 books including My Sister's Voice, Three Months in Venice and Sunnyside Blues!
By entering the giveaway, you are confirming you are at least 18 years old.
One winner will be chosen via Rafflecopter to receive one set of three books by Mary Carter.
This giveaway begins August 4 and ends on October 31.
Winners will be contacted via email on Monday, November 3.
Winner has 48 hours to reply.
Good luck everyone!
ENTER TO WIN!
a Rafflecopter giveaway
www.MaryCarterBooks.com
www.wilmingtonwrites.com