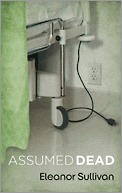 ASSUMED DEAD
Monika Everhardt Medical Mystery
Book 3
by
Eleanor Sullivan
Mass Market Paperback
Mysteries
Published October 1st 2010 by Worldwide Library Worldwide
original title Assumed Dead (Monika Everhardt Medical Mysteries - Book 3)
SUMMARY
(FROM GOODREADS)
Two gravely injured head trauma patients—and two mysteries—arrive in nurse Monika Everhardt's ICU on the same day. The first is a John Doe whose car crashed during a high-speed police chase. The second is a woman who was bludgeoned in a bank parking lot. Police suspect the victim's husband. But Monika knows genuine grief when she sees it and she's got her eye on someone else: the husband's ex-wife.

Things get interesting when Monika's friend believes the John Doe may be her long lost brother, presumed dead for several years. But if he is, what was he doing with a stolen car from Texas and the ID of a dead man from New York? As Monika uncovers pieces of the shocking truth about why these patients ended up in her care, the hectic daily routine of life and death…becomes murder.
REVIEW
I found this book at a book sale. The title and cover drew me in immediately. I haven't read any of the medical series but I'm positive I will now. There are times in the book where your heart will beat fast, you need to catch your breath. The plot is fast paced. The book is woven together with hospital life and the private practice.
The author evidently put a lot of her knowledge of the medical field into this book. The things that take place day in and day out in the doctor's offices and the hospitals. Death, Healing, Grief, heart broke relatives. patients that won't cooperate and those that go out of their way to help the doctors and nurses. Of course there is always the administrative side. I'm sure that is a pure nightmare. In this book, there are two patients fighting for their lives and a dedicated nurse, Monica is out to discover the truth about the patients.
Sometimes in the mystery novels, you can figure the ending out before you get there. Not in this book. This book put in a little web towards the end which was unexpected. The book is definitely a stand alone, but I wish I had had the opportunity to read Book One and Two before this one. If you do get the book, try to get the first two also and read them in sequence. This was an exciting, exhilarating and rather informative mystery story. I would suggest it to anyone who likes mysteries, hospital settings and a book that doesn't give away the ending.
I would give this book 5 STARS.


MONIKA EVERHARDT MEDICAL MYSTERIES






http://bemiown.blogspot.com

bemiown@yahoo.com

https://www.goodreads.com/review/show/987961748

http://www.amazon.com/review/R2W2SVZOZXEH0E/ref=cm_cr_pr_perm?ie=UTF8&ASIN=1591331447




ASSUMED DEAD by Eleanor Sullivan