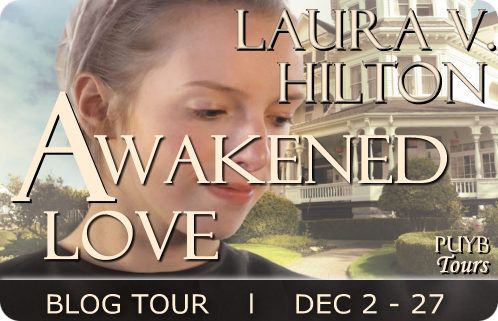 AWAKENED LOVE
Amish of Webster County
Book 3
by
Laura V. Hilton
2012 Laurel Award Winning Author
Published September 1st 2013
by Whitaker House
(first published August 14th 2013)
A BASHFUL BAKER-A MAN ON THE RUN
(from back cover)
OVERVIEW (from Goodreads)
Twenty-one-year-old Katie Detweiler loves to bake. When she's hired at a local bed-and-breakfast to do just that, she's excited, especially because the owner promises the shy young woman that she won't have to leave the kitchen. But when her boss's husband requires round-the-clock care, Katie is forced to overcome her shyness and wait on customers, as well. Before long, a "customer" reveals himself to be a private investigator who informs Katie that she was adopted, and that her biological sister needs a bone marrow transplant.Twenty-two-year-old Abram Hilty has fled the drama of Shipshewana, Indiana, for Seymour, Missouri, where he's staying with his cousin Micah Graber. His plan is to hide, from a girl he no longer cares about and also from a cold-blooded killer. Uncomfortable sharing his past and afraid of the consequences, he buries his troubles deep inside. When he meets Katie Detweiler, he is immediately attracted, but his pursuit of her is complicated by the problems of.....
REVIEW
The main character in this book is Katie Detweiler. She is Amish in Webster County. Be sure you set aside some time to spend on this book. Once you open the book, you're there for the duration. You are hooked. You can't turn the pages fast enough. There is so much happening that you don't want to miss anything. Katie is very shy and doesn't stand up for herself. She is constantly being taunted by Patsy Swartz. Katie runs the bakery/deli at a friend's local bed and breakfast. She has the feeling that she will never marry and have boppli. Abram Hilty came to stay with relatives including is his cousin Micah. Seymour, Missouri will never be the same. Both Abram and Micah are attracted to Katie.Katie believes Abram has a girlfriend back in Shipshewana, Indiana so she doesn't believe Abram when he says she will someday be his frau. Then here comes Patsy again. She loves gossip and does everything she can to make life miserable for others and happy for her. She tells Katie that he is courting her and they are due to wed. Word around is that Abram is courting Katie as a joke and she feels that everyone is laughing at her. Abram has a secret and Katie discovers one of her own. Her world is flipped upside down. Abram supports her until the Bishops order him to go home.Abram has been running from something and there is no clue what that is. The pages start turning faster as you try to find out the secret he has and the one Katie has too. Abram is a good man and wants to do what is right but his secret is taking over his Amish way of thinking. He needs to pray and talk to God. The only thing wrong with this book is I should have read Books 1 and 2 before Book 3. They are stand alone books but you miss out on the history of the characters. Well, I'm sorry but that is the end for me. I want you to be surprised and surprised you'll be. So go pick up Laura V. Hilton's books and read some heartwarming, sometimes sad and sometimes satisfying words. You might want to pick up the first two books also and read them in order.
I was given this complimentary copy of AWAKENED LOVE by the author Laura V. Hilton from Dorothy Thompson/Pump Up Your Book for my uncompensated opinion.
I would give this book 5 Pies.
AUTHOR
Amish of Seymour County Books 1-3
Amish of Webster County, Books 1 and 2

LINKS
http://bemiown.blogspot.com
https://www.goodreads.com/book/show/17950563-awakened-love?ac=1
http://lighthouse-academy.blogspot.com
http://www.shelfari.com/books/36292625/Awakened-Love-%28Amish-Of-Webster-County-V3%29
http://www.amazon.com/Awakened-Love-Amish-Webster-County/dp/1603745084