ROSEMARY OPENS HER HEART
Home At Cedar Creek
Book Two
by
Naomi King
a.k.a Charlotte Hubbard
Published November 6th 2012 by NAL Trade
OVERVIEW
(from Goodreads)
Zanna Lambright is finally marrying Jonny Ropp, and friends and family have come from far and wide to celebrate. Among them is young widow Rosemary Yutzy, mother of toddler Katie, whose husband was tragically killed last fall. With a willing heart Rosemary has taken over care of her in-law's family and continued to run a baked goods business from home, but privately she still mourns her lost Joe...and is unprepared for the changes that are coming...

Rosemary's father-in-law wants to merge his lamb-raising business with Matt Lambright's—a move that will require the Yutzys to relocate from their nearby town to Cedar Creek. Moreover, it will bring Rosemary into constant contact with Matt, who is making no secret of his romantic interest in her. The challenges of contemplating a future unlike any she expected are overwhelming for Rosemary. And although Matt is strong and kind, his courtship is so persistent, she often wants to run the other way. As Rosemary struggles to see beyond her immediate joys and sorrows, will she embrace the outpouring of welcome and support from the people of Cedar Creek...and accept this new chance to open her heart to a more abundant life?
REVIEW
We are at the wedding of Zanna, Abby's sister, to Jonny Ropp. Zanna had gotten pregnant by Jonny Ropp during their Rumspringa. They had a little boy they called Harley. James Garber thought Zanna was going to be his betrothed . He is attending the wedding anyway. James had forgiven Zanna and they are now friends. Then we have Rosemary Yutzy, a young widow with her toddler Katie. She attracts attention from the bride's brother Matt while at the wedding. Matt becomes very persistent in pursuing Rosemary. She begins to think it might be time to start living again.
James had known Abby most of his life but he never really paid any attention to her. He was only interested in Zanna. Sometimes we seek things and don't even look right under our noses. Rosemary is just an all around sweetheart who would help anybody with anything. She has moved in with her father-in-law, Titus, and his teenage daughter, Beth Ann to take care of them after her husband passed. Abby is having a hard time letting go of her husband. Rosemary still wears the black mourning dresses even though enough time has passed that she could wear brighter colors. On the cover you see her in a colored dress. What changed for Rosemary to allow her to let go of her mourning? Rosemary seems to stay away from dealing with difficult situations. She always finds other things to do or somehow remove herself from the conflict. She has no idea what she actually wants and needs. She has always taken care of everyone else and put herself aside. She is scared and aloof when Matt starts to show her some attention. The answer seems to lie in the little one, Katie. Katie helps her momma realize what a good man Matt is. That is until James becomes interested in Rosemary and little Katie. Will Rosemary begin living again? Will she marry Matt or will she marry James.? What will happen if she marries, will they live with Titus or build on the land that Rosemary owns? Many questions to be answered and the best way is for you to pick up a copy of ROSEMARY OPENS HER HEART. Follow little Katie and you'll fall in love with her. Decide for yourself who is the best man for Rosemary, Matt or James? Another sweet Amish read from a talented writer. Thank you Ms. King for sharing your talents with us.
The Amish live a quiet, peaceful, loving life. But they have their trials and tribulations also. They love and grieve just like us all. They rely on God to help them find the answers.
I would give this book 5 STARS.
I would give the cover 4 STARS
I was given a complimentary copy of ROSEMARY OPENS HER HEART by Naomi King from Manic Readers for my honest review.
AUTHOR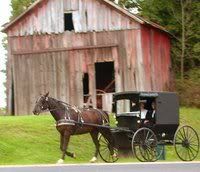 www.manicreaders.com
http://bemiown.blogspot.com
www.naomikingauthor.com
https://www.goodreads.com/book/show/13542497-rosemary-opens-her-heart?
http://www.shelfari.com/books/28863077/Rosemary-Opens-Her-Heart
http://www.amazon.com/Rosemary-Opens-Her-Heart-Cedar/dp/0451237978