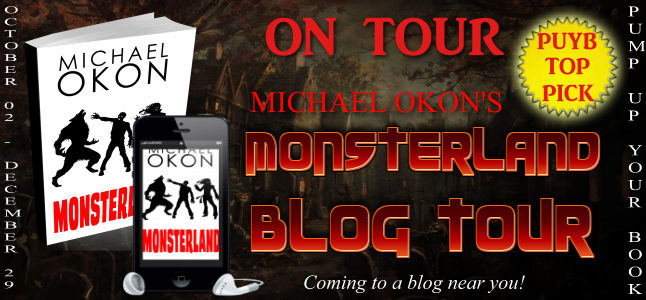 PUMP UP YOUR BOOK VIRTUAL BOOK TOURS
BRINGS YOU A BOOK TOUR
AND GIVE

AWAY

Inside the Book
Title: MONSTERLAND
Author: Michael Okon
Publisher: Wordfire Press
Pages: 232
Genre: Monsters
BOOK BLURB:
Welcome to Monsterland—the scariest place on Earth.
The last couple years of high school have not been fun for Wyatt Baldwin. His parents divorce, then his dad mysteriously dies. He's not exactly comfortable with his new stepfather, Carter White, either. An on-going debate with his best friends Howard Drucker and Melvin over which monster is superior has gotten stale. He'd much rather spend his days with beautiful and popular Jade. However, she's dating the brash high-school quarterback Nolan, and Wyatt thinks he doesn't stand a chance.
But everything changes when Wyatt and his friends are invited to attend the grand opening of Monsterland, a groundbreaking theme park where guests can rock out with vampires at Vampire Village, be chased by actual werewolves on the Werewolf River Run, and walk among the dead in Zombieville.
With real werewolves, vampires and zombies as the main attractions, what could possibly go wrong?

______________________
Meet the Author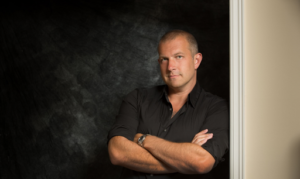 Michael Okon is an award-winning and best-selling author of multiple genres including paranormal, thriller, horror, action/adventure and self-help. He graduated from Long Island University with a degree in English, and then later received his MBA in business and finance. Coming from a family of writers, he has storytelling is his DNA. Michael has been writing from as far back as he can remember, his inspiration being his love for films and their impact on his life. From the time he saw The Goonies, he was hooked on the idea of entertaining people through unforgettable characters.
Michael is a lifelong movie buff, a music playlist aficionado, and a sucker for self-help books. He lives on the North Shore of Long Island with his wife and children.
His latest book is
Monsterland
.
WEBSITE & SOCIAL LINKS:
_____________________

Michael Okon is giving away 2 autographed copies of MONSTERLAND!
Terms & Conditions:
By entering the giveaway, you are confirming you are at least 18 years old.
Two winners will be chosen via Rafflecopter to receive a copy.
This giveaway ends midnight December 29.
Winner will be contacted via email on December 30.
Winner has 48 hours to reply.
Good luck everyone!
ENTER TO WIN!
WHAT I THINK!
What exactly are monsters? Things like vampires, zombies and werewolves. Everyone loves these monsters. Sometimes they make you laugh. The hairs on your arms may stand up. You may look over your shoulder in the dark. Sometimes you think this is just another hum drum supposed scary book. But is it?
What about a monster park? A place where you can get close and personal with the "monsters", the real monsters? A place to have a Monster burger and enjoy, get a little scared and have fun. Everybody would probably go crazy over that. What could possibly go wrong? That's what the theme park owner, Dr. Konrad thought. He gave out free passes to friends but no one had any idea what could happen when you got within arm's reach of the monsters.What happens when that fun turns on you and it becomes REALLY SCARY?
Here we have a place where there is supposed sanctuary for humans that were afflicted by a disease. These humans are no longer human, they are monsters and they feed on raw meat. Just like the shows we watch. They are the walking dead. The good Dr. created this place to watch, to record and to possible find the answer to this curse. Theme park, in a way. This is a definite roller coaster ride, but once you get in, can you get out? Can be sure who are visitors, the humans? Or are the humans the real monsters?
A ride of a lifetime. The author gives us a little different setting for the monsters. Just let your imagination go wild, but be careful, going wild spreads. Just look at the monsters. The author presents this so realistic that you are walking down the various paths at the park. Enjoying yourself until? So rock with the dead, walk with the Zombies and get chased by the vampires and werewolves, that is, if you're game. Don't worry, you will definitely be part of the game.You'll have no choice.
I received a copy of this book from the author and PUYB and voluntarily decided to review it.
I would give this book 5 tickets.
TOUR SCHEDULE
GOODREADS REVIEW LINK