DANGEROUS ENDS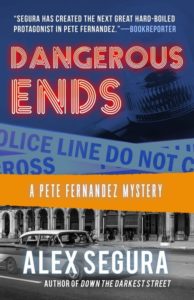 Pete Fernandez Mystery
Book Three
by
Alex Seguira
Publisher: Polis Books
Pages: 320
Genre: Mystery/Crime/Thriller
A Review Campaign
BROUGHT TO YOU BY
PUMP UP YOUR BOOK VIRTUAL BOOK TOURS
----------------------------------------
Pete Fernandez has settled into an easy, if somewhat boring life as a P.I. He takes pictures of cheating husbands. He tracks criminals who've skipped bail and he attends weekly AA meetings. The days of chasing murderous killers are behind him. Or are they?
When his sometimes partner Kathy Bentley approaches him with a potential new client, Pete balks. Not because he doesn't need the money, but because the case involves Gaspar Varela, a former Miami police officer serving a life sentence for the murder of his wife - one of the most infamous crimes in Miami history. The client? None other than Varela's daughter, Maya, who has doggedly supported her father's claims of innocence.
As Pete and Kathy wade into a case that no one wants, they also find themselves in the crosshairs of Los Enfermos, a bloodthirsty gang of pro-Castro killers and drug dealers looking to wipe Pete off the Miami map. As if trying to exonerate Varela wasn't enough, they find themselves entangled in something even older and more surprising: a bloody, political hit ordered by Fidel Castro himself, that left a still healing scar on Pete and his dead father's past.
Fast paced, hardboiled and surprising, Dangerous Ends pushes Pete Fernandez into a battle with a deadlier, more complex threat, as he tries to shake off the demons haunting Miami's own, sordid past.
-------------------------------------------
First off, you may want to read the first two books to get a background on the characters and some information on the setting. You do get a bit of information from the first two books in the third book, though. Corruption on the dark side of Miami.
Do you like danger, dead bodies, murder, investigators? I could go on and on. This book gives that private investigator in you everything you need to help solve the case.
Varela, a cop, was convicted of his wife's murder but was he guilty? Maya, his daughter, thinks not. She feels they convicted the wrong person. There was someone who saw what happened according to Varela. But Varela's colleagues decided he was lying and so it went to trial. The woman that saw the crime, got on the stand and took back her statement. The only hope left after appeals and appeals, is another trial, but that means starting over and trying to find new, more substantial evidence and witnesses, if there is any.
So Maya hires a couple to help. Kathy and Pete. Pete investigates and Kathy writes a book. Will truth be found? There's another problem. Someone doesn't want them to find the truth. Now other lives are at stake, literally. Some could die trying to clear Varela. Will Pete continue to try to solve this case even though he could die trying? And, Why would anyone go to those extents to hide the truth? Could the gangs of Miami be involved? But why? Could it be the murderer? If so, why kill Varela's wife? and frame him?
So if you like investigating murders and such while sitting in your arm chair late at night, open the book. Sometimes truth is hard to bring to light but Pete Fernandez isn't giving up, at least as long as he's alive.
Put your investigative skills to work and stand by Pete as he tries to clear Varela of murder. But you might want to watch your back. Someone is free out there. It may be the murderer who doesn't want the truth to be found. WATCH YOUR BACK! and read on!
I received a copy of this book and voluntarily decided to review it.

---------------------------------------
MEDIA CONTACT
Dorothy Thompson
CEO/Founder of Pump Up Your Book