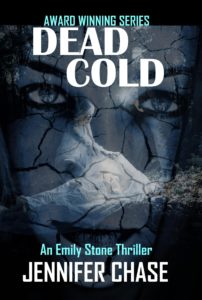 Inside the Series
Title: DEAD COLD
Author: Jennifer Chase
Publisher: JEC Press
Pages: 326
Genre: Crime Thriller
BOOK BLURB:
What happens when one California community has a disturbing spike in homicides? It catapults cops into a deadly game of murder. Frozen human body parts hideously displayed at the crime scenes offers a horrifying interpretation that only a sadistic serial killer could design—and execute.
On the hunt for a complex serial killer, vigilante detective Emily Stone must face her most daring case yet. Stone's proven top-notch profiling skills and forensic expertise may not be enough this time.
Young and ambitious, Detective Danny Starr, catches the homicide cases and discovers that it will test everything he knows about police work and the criminal mind. Can he handle these escalating cases or will the police department have to call in reinforcements—the FBI.
Emily Stone's covert team pushes with extreme urgency to unravel the grisly clues, while keeping their identities hidden from the police. With one last-ditch effort, Stone dangles someone she loves as bait to draw out the killer. She then forces the killer out of their comfort zone with her partner Rick Lopez, and with help from a longtime friend Jordan Smith. A revelation of the serial killer's identity leaves the team with volatile emotions that could destroy them.
The killer continues to taunt and expertly manipulate the police, as well as Stone's team, and as they run out of time—they leave behind everyone and everything—in Dead Cold.

___________________
Meet the Author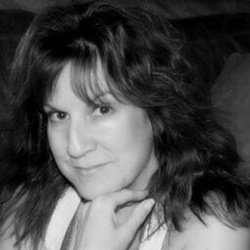 Jennifer Chase is a multi award-winning crime fiction author and consulting criminologist. Jennifer holds a bachelor degree in police forensics and a master's degree in criminology & criminal justice. These academic pursuits developed out of her curiosity about the criminal mind as well as from her own experience with a violent sociopath, providing Jennifer with deep personal investment in every story she tells. In addition, she holds certifications in serial crime and criminal profiling. She is an affiliate member of the International Association of Forensic Criminologists.
WEBSITE & SOCIAL LINKS:
_____________________
WHAT I THINK: BEWARE: Frozen body parts. That made you perk up, didn't it? Well this is a stand alone book, book six, but you will find yourself wanting to read more of the Emily Stone thrillers. We have a serial killer that will put you on the edge of your chair. Not only that but the hairs on your arms may stand up a bit. If you are a little squeamish, you might want to re-think reading this one. Your heart will start to beat faster, you may get a little paranoid that this could really happen. It could happen and it does happen. That is what is so exciting about reading this and the other books from Jennifer Chase. It's reality, fiction of course, but you begin to feel the reality of it as you turn the pages. You may even get a little hesitant about turning the next page. What will happen next? The setting is a Californian community. The serial killer is leaving body parts at the scenes of the crimes, frozen body parts, after he lures them, tortures and neatly cuts them up. Now are looking over your shoulder as you read this late at night? This isn't your ordinary serial killer. This one is smart and cunning. As Emily, Rick and Jordan go about hunting the killer, they find this isn't as easy as they thought it would be. The pace of the story is fast and the action is constant. Never a dull moment with Emily Stone.
I liked that the book wasn't set up as normal read. Instead of chapter numbers it has dates and times. That made it easy to keep up with what was going on. The book is unusual in the fact that Emily and her friends working and solving cases, don't take the credit. They happily let the law enforcement to take the credit.
Will Emily and her friends solve the mystery as to who the serial killer is and what is making him do the gruesome killings he's doing? But time is of the essence. Another victim may be at the killer's hands as you are turning the pages. Can Emily get to him before he gets to his next victim? So if you love out of the ordinary mysteries with lots of suspense and twists and turns, join forces with Emily and become an arm chair detective. I warn you, you open the book and you are there, frozen body parts and all!
I received a copy of this book from the author and PUMP UP YOUR BOOK and voluntarily decided to review it.
I would give this book 5 STARS.

MEDIA CONTACT:Dorothy Thompson
CEO/FOUNDER of PUMP UP YOUR BOOK
Winner of P&E Readers Poll 2016 for Best Publicity Firm
Tour Schedule
Monday, September 4
Tuesday, September 5
Wednesday, September 6
Thursday, September 7
Friday, September 8
*********
Monday, September 11
Tuesday, September 12
Wednesday, September 13
Thursday, September 14
********
Monday, September 18
Tuesday, September 19
Thursday, September 21
********
Monday, September 25
Wednesday, September 27
Friday, September 29
**********
Monday, October 2
Tuesday, October 3
Wednesday, October 4
Thursday, October 5
********
Monday, October 9
Tuesday, October 10
Wednesday, October 11
Thursday, October 12
********
Monday, October 16
Tuesday, October 17
Wednesday, October 18
Thursday, October 19
********
Monday, October 23
Tuesday, October 24
********
Monday, October 30
Tuesday, October 31
********
Wednesday, November 1
Thursday, November 2
Friday, November 3
********
Monday, November 6
Tuesday, November 7
Wednesday, November 8
Thursday, November 9
********
Monday, November 13
Tuesday, November 14
Wednesday, November 15
Thursday, November 16
********
Monday, November 20
Tuesday, November 21
********
Monday, November 27
Tuesday, November 28
Thursday, November 30