A

Resort To Murder Mystery
(Amateur Sleuth/Cozy Mystery)
___________________________________________________________________
VIRTUAL BOOK PUBLICITY TOURS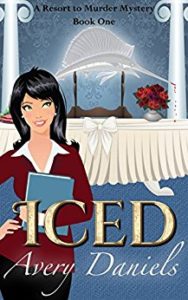 Inside the Book
Title: ICED: RESORT TO MURDER MYSTERY
Author: Avery Daniels
Publisher: Blazing Sword Publishing
Pages: 282
Genre: Amateur Sleuth/Cozy Mystery
Julienne has her ideal job as an event planner at a prestigious resort. During a luncheon event she coordinated, a renowned celebrity pastor is killed next to the buffet. All eyes turn to her as the suspect. If she wants to stay out of jail or even keep her job, Julienne needs all the help she can get to solve the crime.
She has her work cut out for her with a vengeful high school rival now reporter, the public demanding she be fired, plus family who know what's best for her, and a boyfriend who doesn't understand her. She turns to friends and a new ally to uncover who wanted to put the pastor on ice.
Julienne goes undercover and investigates a local swingers group as she follows the trail of clues before they go cold. Can she gather enough suspects and motives to convince the police to widen their investigation? Can she do it before the killer sets his murderous sights on her? Will her personal life ever be as simple as unveiling a murderer?
AVERY DANIELS
was born and raised in Colorado, graduated from college with a degree in business administration and has worked in fortune 500 companies and DoD her entire life. Her most eventful job was apartment management for 352 units. She still resides in Colorado with two brother black cats as her spirited companions. She volunteers for a cat shelter, enjoys scrap booking and card making, photography, and painting in watercolor and acrylic. She inherited a love for reading books from her mother and grandmother and grew up talking about books at the dinner table.
________________________________________________________________________
My favorite character was Julienne. She was a strong woman, not afraid to stand up for what she believed and going after what she wants. She was a hard worker traveling and working at different hotels. She didn't seem to have much support from anyone. Sometimes she seemed to get side tracked a little. It made you want to direct her straight ahead instead of going in the opposite direction.
It seems like the main love interest, Mason is the symbol of perfection. Just a bit too perfect.
I found as I turned the pages, the suspense built. I kept thinking I had the mystery solved but as the pages turned, I found I was on the wrong track. It kept me in suspense until the end. I was sure I knew who the killer was but I had to re-think it as the pages turned. It was interesting to find that the person murdered was a pastor. That made you think what in the world did this man of the faith do to warrant someone killing him, even though he was a rather immoral person. With Julienne being one of the last people to see the pastor, is she involved? After all the pastor had made advances towards her. Can Julienne find out who the killer is before she is arrested, or before she becomes a target? The book is short enough to get the good mystery in without going through a lot of unnecessary information. You didn't get bogged down by too much. A fun and quick read. If you love cozy mysteries with their fun plots and cute titles then try this one. IT's sure to please.
I received a copy of this book from the author and PUYB and voluntarily decided to review it.

____________________________
Dorothy Thompson
CEO/Founder PUMP UP YOUR BOOK
Winner of P&E Readers Poll 2016 for Best Publicity Firm