PUMP UP YOUR BOOK
IS PROUD TO BRING YOU
COMMENTS ARE APPRECIATED!
click on no comments at end of post!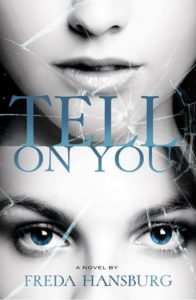 Inside the Book
Title: TELL ON YOU
Author: Freda Hansburg
Publisher: Micro Publishing Media
Pages: 248
Genre: Thriller
Tell on You
is a psychological suspense novel that best fits within the
Gone Girl-
inspired niche genre of "grip lit." Jeremy Barrett's obsessive love equals that of Jay Gatsby for Daisy Buchanan, as life imitates art in his private school English class. But his angst-driven infatuation brings dire consequences as he is drawn into the machinations of his disturbed 16-year-old student Nikki Jordan, whose bad intentions rival those of her teacher. A fast-paced, drama-filled tale,
Tell on You
reminds readers about the wildness and trauma of adolescence—and the self-defeating behaviors to which adults resort in times of stress. From gaslighting to vicious bullying, poisonous family privilege to the loss of a parent—Freda Hansburg draws on her experience as a clinical psychologist to explore the depths of each dark situation in
Tell on You.
Freda Hansburg is a psychologist and co-author of the self help books PEOPLE SMART and WORKING PEOPLE SMART, TELL ON YOU is her debut novel. Freda and her husband lives in the South Carolina Lowcountry, where she is working on her next novel and her Pickleball game.
www.facebook.com/Freda Hansburg,Author
www.twitter.com/fredahansburgg
"...he wanted to recover something, some idea of himself, perhaps...if he could once return to a certain starting place and go over it all slowly, he could find out what that thing was."
-F. Scott Fitzgerald, THE GREAT GATSBY
When does the downfall begin? When you cross that line that is forbidden. That is exactly what Jeremy Barrett did. He was in need of something new, something different, something exciting. He had baggage, a baby on the way, family that drove him crazy and he had no future, as he saw it. A 33 year old teacher and on the prowl. He has a student, Nikki Jordan who he feels is beautiful. He feels good when around her. Is this the place where the forbidden line is crossed? She encourages him to follow his dreams, take chances and to write poetry. She's a 16 year old disaster waiting to happen, to him! She is going to be far more than the mundane life he feels he's been living. Soon he will welcome that old life, but right now he's in for the nightmare he can't wake up from. This is one of those "fatal attractions".
The suspense will have you on a roller coaster ride as you turn the pages. The author introduces you, or re-introduces you to the dark crevices of a person's mind. We all have them, you know. Sometimes we can't control ourselves. We think the grass is greener on the other side of that forbidden line. Is it ever? Some just keep them in the dark, others step over that line and the crevices become holes.
You may find you feel for the characters, especially Jeremy and then you have to take into consideration, he's the adult, she's the child. Who should have control? But life sometimes intervenes in ways we don't want, understand or need, but it happens. As the author takes us into the deep, darkness of the mind, where will the reader end up? Will Jeremy come to his senses? Will danger raise it's ugly head? What happens between this unlikely couple, the teacher and the student? Boundaries have been crossed and there must be consequences. What will they be?
I was given a copy of this book from the author and PUYB and voluntarily decided to review it.
I would give this book 4 STARS.
Winner P&E Readers Poll 2016