REBEL SONG
brought to you by
*PUMP UP YOUR BOOK*
VIRTUAL BOOK TOURS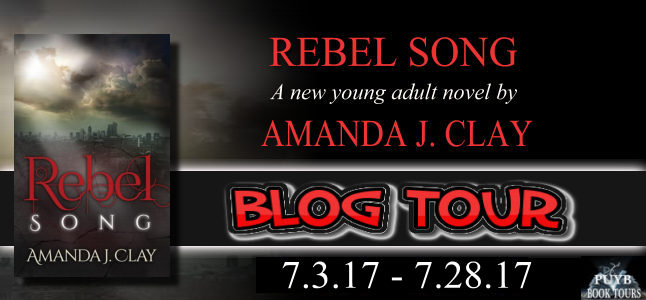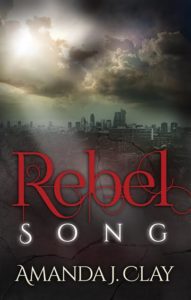 COMMENTS ARE APPRECIATED.
THANKS!
ENJOY!
************************************************
Caught in the midst of a budding civil war and surrounded by enemies on every side, Rogan and Elyra must choose between a future together and the future of Arelanda.
-from back cover
****************************************************
Inside the Book
Title: REBEL SONG
Rebel Song Book #1
Author: Amanda J. Clay
Publisher: Independent
Pages: 370
Genre: YA
Caught on opposite sides of a budding civil war, a rebel leader and a modern day princess fight to save their country from a corrupt Minister General in a fictional Central Europe.
The once prosperous European nation of Arelanda has been plagued with poverty and corruption since the failed rebellion tore it apart. Now, rebels stir again in the capital's underbelly, vowing to depose the monarchy and overturn the unjust government.
Seventeen-year-old Rogan Elwood, son of a rebel leader executed for treason after the first rebellion, has borne a tainted legacy his entire life. As he is pulled deeper into conflict, Rogan must face his calling in the future of the rebel cause—waging his want for peace against his desire for vengeance. Everything changes when he falls for Elyra—modern, idealistic and determined to bring Arelanda a better future. She also just happens to be next in line to the throne—if the corrupt Minister General doesn't beat her to it.
Caught in the midst of a budding civil war and surrounded by enemies on every side, Elyra and Rogan must fight to save themselves and their country.
PRAISE FOR REBEL SONG:
"I loved this book… I thought it was gripping, exciting and thoroughly enjoyable. The romance was wonderfully played out and I loved the sparks that flew between the two characters. I thought the world building held just enough mystery without becoming confusing. For most of the book I felt like I was in a standard fantasy setting yet here and there, guns and antiseptic were in use. However this didn't feel out of place, just rare and for those with money.
I loved the fast pace of the book and the way it questioned the rightness of the rebellion. I thought the conflicts were well placed and the violence just at the right pitch. I started reading in my tea break and read all the way through lunch. I then risked motion sickness and read on the bus home, I was that into finishing it. Unfortunately I now have to wait for the sequel.
I would recommend this book to anyone who wants dystopian romance with well-drawn characters."
ORDER YOUR COPY:
______________________
Meet the Author

Amanda J. Clay is a writing YA and Adult fiction from Dallas, TX. A Northern California native, she had a fantastic time studying English and Journalism at Chico State University and then a very serious time slaving away for a Master's degree in Communications from California State University, Fullerton. When she's not staring at a computer screen, she spends most of her spare time on some new fitness addiction and plotting world adventures.
Her latest book is the young adult novel,
Rebel Song
.
WEBSITE & SOCIAL LINKS:
__________________________________________________
Setting: Modern Day Central Europe: What does a couple do when they want so desperately to be together but circumstances, society keeps them apart. As always, life steps in. The author gives us two people, unfortunately on opposite sides of the civil war. Two people from as used to be said, from the opposite sides of life, a revolutionary and an heir to the throne who are doing their best to keep their country from falling in ruins to the Minister General. The two are on opposite sides but they soon will be on the same side, only in a different way. The characters were very complex and a lot of that had to do with the lives that they didn't choose. The book was interesting at times and at others, I felt like skipping ahead. But regardless, I couldn't help but like it. How can you not? Two different souls, with one common goal, falling in love. I had a little difficulty with the immediately love. I guess it's not that uncommon but I wanted it to go gradually and with it all the sweetness and growing love. It's such a love story, but a tragic love story none the less.
I was completely thrown off guard by the ending. I had only a few pages left when, it hit me, I mean hit me. You may find, as I did, the last bit to be quite a shocker. It definitely leaves you wondering and WANTING more, much more. You won't know if you can wait for that second book. Their struggles and their love have much more to go. SO a second book has to come soon.
With Rogan being only 17, the son of a rebel leader who was tried and convicted of treason, he has carried a lot on his young shoulders. He is conflicted between peace and revenge. But that changes when Elyra (what a pretty name) comes into his life. He falls and he falls hard. Two young loves caught in the midst of enemies all around them. They have to save not only themselves but their beloved country. Will this mean they have to choose country over love? Will the fire between them bring them closer or will it divide them?
The author gives you a romance with all the struggles and sadness that came from a couple in love but from different ways of living, different ideas but one very strong thing in common, love. You get the inner turmoil that both face. You get the setting of hard times with conflicts over personal love and love of country. You are faced with questions on what this young couple will do or what will circumstances make them do. Very well written with good descriptions of the times and the characters.
I received a copy of this book from the author and PUYB and voluntarily decided to review it.
__________________________________________________
Participating Blogs
Monday, July 3
Wednesday, July 5
Thursday, July 6
Friday, July 7
********
Monday, July 10
Tuesday, July 11
Wednesday, July 12
Thursday, July 13
Friday, July 14
*******
Monday, July 17
Tuesday, July 18
Wednesday, July 19
Thursday, July 20
Friday, July 21
********
Monday, July 24
Tuesday, July 25
Wednesday, July 26
Thursday, July 27
Friday, July 28
__________________________________________________
Winner P&E Readers Poll 2016