*PUMP UP YOUR BOOK*
VIRTUAL BOOK PUBLICITY TOURS
IS PLEASED
TO BRING YOU
Like espionage thrillers? PORT IN A DESERT STORM by @spydreams #PUYB #ASMSG…
Click To Tweet


Inside the Book
Title: PORT IN A DESERT STORM
Author: Tom Fugate
Publisher: Independent
Pages: 304
Genre: Espionage/Thriller
July of 1990. The world is once again a dangerous place. The powder keg that is the middle east is once again ready to explode. The small oil rich country of Kuwait has been invaded by the forces of the Saddam Hussein, the dictator of Iraq. The world is on the brink of war as a coalition is formed and preparations are made. Lee Thomas is once again right in the middle of the situation even before it starts. Sometimes your dreams can turn out to be nightmares, or even worse they can turn out to be reality. From Washington, DC to MI6 Headquarters in London England and then to the hotbed of the Middle East Lee is once again a witness and participant to history.
FOR MORE INFORMATION:
______________________
Meet the Author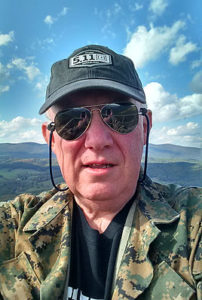 Tom Fugate is a 1978 graduate of Virginia Tech. Born in the baby boom (1956) he still lives in his hometown of Hiltons, Virginia. He has worked in radio, television news, the printing industry and in computer support.
Port in a Desert Storm
is the fourth book in the memoirs of Lee Thomas. Mr. Fugate has never worked for any government agency, but he did grow up reading a lot of spy novels.
WEBSITE & SOCIAL LINKS:
__________________________________________________
MY THOUGHTS
"The question is not can you hit the target. That is a teachable skill. The question is, can you make the shot? If you don't know the difference, then you are not a sniper." -Lee Thomas on sniping

"NO BATTLE PLAN SURVIVES FIRST CONTACT WITH THE ENEMY." -Murphy's Laws of Combat

The setting is July 1990 in a dangerous place, the world. Turmoil in the middle east is like a time bomb ready to go off. The world we live in is about to explode in a war. Saddam Hussein invades the little country of Kuwait. Why? It is very rich in oil.
Lee Thomas is right in the midst of everything. He seems like he's ready and knows it's going to happen before it does. We all have dreams but there's a fine line between a dream and a nightmare. And what's even worse, when those dreams and nightmares become reality.!
The storm is about to erupt and the port is there ready to be entered. I found that the book is right out there, in your face with reality, even though it is fiction. These wars are happening every day in today's world. Things haven't changed. I especially liked the little tool that was used as a weapon as such, a paperclip. Interesting how inventive you can be when under the gun, or knife as it was. Lee Thomas was pissed off, they were trying to kill him and he wasn't going to take it without a fight. Lee Thomas in his quote tells it all. Anyone who is trained can hit the target, but it takes a certain person to be able to take the shot. If you were there, beside Lee Thomas and you were trained, could you take the shot? It could mean a matter of life and death.
The book moves at a fast clip and it tells it like it is, not sugar coating. If you like espionage, thrillers and men who can take the shot, then pick up this book and stand beside Lee Thomas.

I received a copy of this book from the author and PUYB and voluntarily decided to review it.
I would give this book 4 STARS.
____________________________________
Participating Blogs
Monday, June 26
Tuesday, June 27
Wednesday, June 28
Thursday, June 29
Character Interview at Pimp That Character
Friday, June 30

__________________________________________________
MEDIA CONTACT
Dorothy Thompson
CEO/Founder PUMP UP YOUR BOOK
Winner of P&E Readers Poll 2016 for Best Publicity Firm