PUMP UP YOUR BOOK
PROUDLY BRINGS YOU
A REVIEW CAMPAIGN
FOR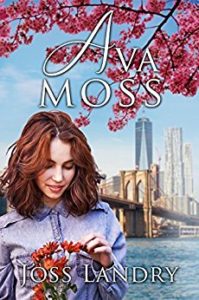 INSIDE THE BOOK
TITLE: Ava Moss
AUTHOR: Joss Landry
PUBLISHER: Book Beatles Publishing LTD
PAGES: 30
GENRE Romantic Cozy Mystery
The story takes place in New York and is a romance and cozy mystery. At this time, Ava is determined to advance her career. When a friend at work gives her the birthday gift of a speed dating ticket, she meets someone she mistakes for one of her dates, and well the plot goes from one twist to the next as Ava tries not to fall in love with her boss.
THE AUTHOR
Born in Canada, Joss has worked as a consultant for more than twenty years, writing copy for marketing firms and assisting start up companies launch their business. She recently made the switch from composing copy and promos, to writing fiction and prose. She is developing her style through courses and the support of other writers. She is a member of the Romance Writers of America and is presently working on honing three other novels for publication. Blessed with four children and five grandchildren, she resides in Montreal with her husband, a staunch supporter, and enjoys spending time biking, rollerblading, playing tennis, and swimming. She loves creating stories as she says they fulfill her need to think outside the box.
TWITTER
MY THOUGHTS
The author gives us a woman who is not only smart, had a lot of will power and she had standards above and beyond,She has her sights on a financial career. The author gives us a cozy romance mystery but it's not your ordinary one. Ava hasn't had an easy life. She has had a rather hard life. But even through it all, she doesn't think she's better than anyone else, she's just Ava. She didn't have a stable childhood, being put in one foster home after another but excel she did. She pulled herself up by the bootstraps and worked at being a successful business woman. Ava didn't think of having romance in her life, so one of her co-workers decides to help the cause, giving her an invitation to Mate for Life. Ava decided to try it and during that evening of several blind dates, she meets a mysterious man. That man would soon change her life. The author gives the reader that big town setting of New York and gives the reader an pretty accurate description of what it is like. A good look into Wall Street and the men associated with. The characters are well described as are the settings. The descriptions are so realistic you can see them in your mind. The author gives the reader a bit of everything, a romance that may be more of a danger, deceit in the firm in which Ava works and an unexpected surprise. The question of Ava's birth had always been present, especially since we know she was in several foster homes when young. Who were her parents and what happened to them? Were they alive, dead or? What will happen with the relationship between Scott and Ava? Will the culprit in the firm be found out? I'm not usually fond of cozy stories but this one kept my attention from start to finish. I wanted to know all about Ava, her childhood, her life in the financial world and, of course, romance, that is, if it's meant to be. If you want to get lost in this romantic, mystery and the life of Ava Moss grab a copy and you won't be able to let go.
I receive a copy of this book from the author and PUYB and voluntarily decided to review it.
I would give this book 4 STARS.
GOODREADS REVIEW LINK
AMAZON REVIEW LINK
MEDIA CONTACT
Dorothy Thompson
Owner, PUYB
Winner P&E Readers Poll 2016
PUYB

---