PUMP UP YOUR BOOK
VIRTUAL BOOK TOURS
PROUDLY PRESENTS
A BOOK CAMPAIGN FOR
A
CHILDREN'S PICTURE BOOK
FIFO 50 STATES
by
Hayley Rose
Review Copies Available: FIFO 50 STATES by Hayley Rose #children #reviews #PUYB…
Click To Tweet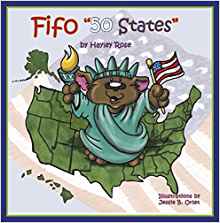 Inside the Book
Title: FIFO 50 STATES
Author: Hayley Rose
Publisher: Flowered Press
Pages: 112
Genre: Children's Picture Book
Fifo's been bitten by the travel bug! Digging up diamonds in Arkansas, looking for fossils in Kansas, enjoying a delicious bowl of gumbo in Louisiana, and even seeing a Broadway show in New York. America is an exciting place!
In Fifo's second book, told in rhyme, Fifo dreams about visiting all 50 states. A colorful reference-like book, Fifo discovers the wonders each state has to offer. He learns along the way each state s capital, shape, flag, motto, and much, much more. The possibilities are endless! So, come along with Fifo and you ll soon discover the beauty of
America
one state to another.
About the Author
Hayley Rose is a #1 best-selling, award-winning author, dedicated to bringing fun, educational and inspiring books to kids through her brand Books by Hayley Rose. Hayley's children's books have won numerous literary awards, including the prestigious Mom's Choice Awards®, KART Kids Book List Award®, Creative Child Magazine's Preferred Choice® and four Reader's Favorite International Book Awards®, an honor she shares alongside actor Jim Carrey and author Sheri Fink. In 2012 Hayley was selected as one of The Top 50 Writers You Should Be Reading, by the AuthorsShow.com. Before writing children's books, Hayley had been working in entertainment business management for over 15 years, specializing in concert touring. She has worked with many A list musicians including Michael Jackson, Rod Stewart and Candlebox just to name a few. Hayley hopes to one day soon release an album of children's songs.
AMAZON BUY LINK
MY THOUGHTS
Who doesn't love a warm and cuddly brown bear. Well the author gives us Fifo, that warm cuddly bear. The story is written in rhyme and it's a book filed with Fifo's adventures as he travels the different states. He has been bitten, bitten by the travel bug and traveling he goes. Excitement for little ones and grown up alike. Traveling and having fun while learning. Fifo has things he wants to do like digging for diamonds in Arkansas, going to Louisiana and experiencing their food and a little culture of a Broadway show in New York. So much to see. The book has colorful illustrations to show, like a geography book only much more interesting and exciting, the flag, motto, the state's capital and more and more of the states in America. The states are listed alphabetically with the number of the state, the capital, flower, tree, bird and has a colorful picture of Fifo to go with each state. If you have little ones, get this book so they can learn in a fun and interesting way about America and the amazing, wonderful states we have here. It's like traveling from your chair and adults will learn some things too. Fifo needs some traveling partners so join in and travel with that warm, cuddle brown bear and have FUN! Believe it or not, LEARNING CAN BE FUN! These kind of books are so important for our children who don't have the opportunity to travel, so they can learn in a fun setting, at their own pace. So sit back, get cozy and ENJOY!
I received a copy of this book from the author and Pump Up Your Book and voluntarily decided to review it.
I would give this book 5 STARS.
GOODREADS REVIEW LINK
AMAZON REVIEW LINK
Media Contact:
Dorothy Thompson
Owner: PUMP UP YOUR BOOK
Winner P&E Readers Poll 2016
PUYB