BRINGS YOU A BOOK CAMPAIGN FOR: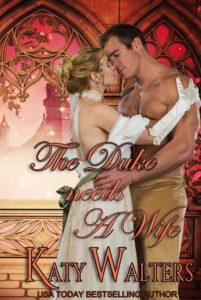 Title
: THE DUKE NEEDS A WIFE
Author
: Katy Walters
Publisher
: Independent
Pages
: 190
Genre
: Regency Romance Suspense
On the untimely demise of her parents, Miss Cassandra Whitney endures abject poverty raising her siblings. She faces further torment as her landlord, the odious Baron Scudder, threatens her with eviction if she refuses to assent to his offer of marriage to her younger sister Belle. As Cassandra fights to save her family, she inherits a title, an estate and a ruin of a castle.
News of Cassandra's inheritance travels fast, reaching the highest circles in the ton. The Dowager Duchess of Taunton immediately sees her as a worthy match for her son Maximillian the 6
th
Duke of Taunton a renowned rake hell. The dowager also plans to take control over the castle which would be a prestigious venue for her many balls and hunting weekends. However, neither Cassandra nor Maximillian have any desire to wed. The Duke is more than inclined to enjoy his various mistresses without the entanglement of matrimony, besides his time is mainly caught up with horses, gaming and his club. What with her siblings, the estate and a ruin of a castle to renovate Cassandra could not possibly entertain the idea of courtship.
Both did not anticipate the manipulative powers of the dowager who slyly arranges a meeting between them.
On seeing Cassandra, Max is suitably impressed with her wit and ironic humour. Already tiring of one of his mistresses, she would be a welcome replacement. Although charmed with his handsome looks and seductive overtures, Cassandra puts him firmly in his place.
Can Cassandra resist the devilish overtures of the Duke and the devious ploys of the dowager?
AMAZON BUY LINK
MY THOUGHTS
This is written for those over the age of 18. It has some hot, steamy sex scenes. It was originally titled, THE COUNTESS REFUSES. This book THE DUKE NEEDS A WIFE is the basic same plot and characters but has new scenes, edited and rewritten. When Cassandra's parents dies, she is in charge of raising her sibs with very little money. She faces eviction if she doesn't consent to let her younger sister, Belle marry the landlord. Cassandra fights with everything she has and then she becomes the owner of an estate and a castle that is in ruins.. Once the word got around that Cassandra had inherited these properties, matchmaking starts to take place. The Dowager Duchess has the castle in her vision so she is pushing her son Maximillian the 6th, Duke of Taunton on Cassandra. It is well known for his antics. But the Duchess' plans aren't working out too well. Maximillian and Cassandra have no plan to be wed. The Duke has other things on his mind. He has several mistresses, likes to spend time with his gambling, horses and his club. Cassandra has too much on her plate already with the castle in need of repair, her sibs to raise and the estate. She doesn't have time for matrimony. But the conniving dowager has other plans. The Duke begins to take interest in Cassandra and Cassandra starts to notice his seductive handsome appearance. But can Cassandra stay away from the Duke and can she keep the dowager at lengths?I found myself getting rather bored. It seemed like the characters had very little substance. I felt they needed more development. The plot seemed way too fast. Things were moving from one thing to another and I couldn't get my grip on any one thing before the story was off and running in another direction. I wanted to reach out and slap the dowager. She was mean, self centered and greedy. There's no way I could like her. Cassandra appeared to be rather unsure of herself. True she had a lot on her plate, but why would she even take note of the Duke? He was a rake. How could he possibly be a true companion, lover or more to Cassandra. It seemed to me she needed a strong, man with good intentions. The story was there but the characters lacked so much development. I wanted to hear what they had to say not just the telling of what happened. I plan to read the book again later, thinking maybe I'm missing a lot here. I couldn't get a good picture of the characters in my mind and when I read a book, I need to visualize the characters.
I received a copy of this book from the author and PUMP UP YOUR BOOK and voluntarily decided to review it. I would give this book 3 STARS.
amazon review link
Media Contact:
Dorothy Thompson
Owner, PUYB
Winner P&E Readers Poll 2016